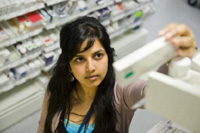 Monash University has been ranked the sixth best university in the world, and the best in Australia, at which to study Pharmacy and Pharmacology.
The high ranking in Pharmacy and Pharmacology was just one of a number of excellent results for Monash in the QS World Rankings by Subject 2012. The University was ranked 15th world-wide in Law, 16th in Education and in the top 25 for both History and Materials Science. Overall, Monash was ranked in the global top 50 in 18 disciplines.
Vice-Chancellor of Monash University, Professor Ed Byrne, said the University's strong performance across a diverse range of disciplines was indicative of the overall quality of its teaching and learning, and research.
"To be ranked in the top 25 institutions globally in five disciplines, and to make the top 50 in 13 others is an extraordinary achievement," Professor Byrne said.
"Our students really are receiving a world-class education."
This is the second year in which QS Top Universities has ranked universities by discipline. Determined by a combination of academic peer-review, employer attitudes and research output, the rankings are intended to help students determine the best university at which to study.
QS Top Universities has ranked international tertiary educators since 2004. Monash is currently ranked 60th in the QS World Rankings, released in September last year.
More information on the QS World Rankings by Subject is available at the
QS Top Universities website
.