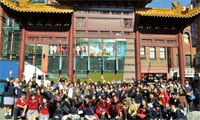 Victorian students are taking advantage of a unique opportunity to improve their foreign language skills through regular meetings with migrant seniors whose first language is Chinese, German or Spanish.
Now in its third year, the Connecting younger second language learners and older bilinguals program is led by Dr Marisa Cordella from Monash University's School of Languages, Cultures and Linguistics. Working with Dr Hui Huang from the Faculty of Arts, Professor Colette Browning from Faculty of Medicine, Nursing and Health Sciences, Dr Cordella's project connects Year 11 and 12 students with 'language and cultural gurus'.
"The program provides a unique opportunity for students to improve their language skills in a natural and purposeful interaction with older people from cultural and linguistically diverse backgrounds," Dr Cordella said.
"Seniors and students create partnerships by bridging language, stereotype barriers and age gaps. This program strengthens solidarity between the younger and the older generations across Australia's multicultural society."
Dr Cordella said her team had noticed a significant increase in conversational skills of students taking part in the program.
"Two students who chose the project as their detailed study and oral component of their language exam achieved excellent grades in their VCE in 2011," Dr Cordella said.
Professor Browning, who specialises in healthy ageing research, said the program also had benefits for the seniors involved.
"We have found evidence of improved quality of life, health and well-being among the older participants," Professor Browning said.
The program proved so popular with both students and the community that Chinese seniors independently set up their own association, the Monash Senior Chinese Volunteer Service centre, to administer about 100 Chinese senior-student pairs across two schools in 2012.
Schools involved in the project include Wantirna College, Caulfield Grammar School, Wheelers Hill Campus and Glen Waverley Secondary College. The program is supported by the Australian Research Council.