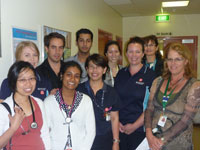 An exciting innovation in interprofessional learning and clinical placements for Monash undergraduate health students is underway as part of the Increased Clinical Training Capacity (ICTC) project at Southern Clinical School. 
The aim is to pilot dedicated student led interprofessional clinical placements to develop collaborative practice-ready health workers while increasing clinical training capacity, in line with the "Framework for Action on Interprofessional Education and Collaborative Practice" (WHO, 2010).
Monash University pre-registration medical, nursing and allied health students attend the two- week placement program in an authentic practice-based learning environment.  The student teams collaboratively assess and manage patients and deliver comprehensive care plans under supervision.  The first program ran in March this year.
Student feedback has been overwhelmingly positive. Medical student Quaderi Syed commented ,"a few days of working with (students from other disciplines) provided a better understanding of their actual roles than two and a half years of seeing them on the wards and reading their entries in histories".
Nursing student Rachael Gilliesagreed: "To be able to work together rather than just alongside the medical and allied health students allowed for more timely and effective patient-centred care."
This program is facilitated by an interprofessional teaching team including members of the ICTC Interprofessional Education Team and the multidisciplinary clinicians of the RED Rehabilitation Program and Emergency Department.    
More about ICTC and the Interprofessional Education Team….
In 2010, Southern Clinical School was awarded a grant from the Commonwealth Government Increased Clinical Training Capacity fund to create interprofessional academic teaching nodes and flexible interprofessional teaching and learning opportunities for undergraduate health professional students at Southern Health.
The ICTC project's Interprofessional Education Team is a blend of Monash University academics and Southern Health clinical educators, and is led by Associate Professor Michelle Leech, Director of Clinical Teaching Programs and Professor Eric Morand, Head of Southern Clinical School (Project Sponsors).  The team includes Kerry Hood (Project Manager), Julie Baulch, Alana Gilbee, Amanda Anderson, Robyn Cant (Research Fellow) and Kate Davies (Administrative Support). The project is guided by an executive Stakeholder Advisory Group, which includes, from Monash University, Professors Wendy Cross and Ben Canny.
Questions
Please feel free to contact project manager Kerry Hood on kerry.hood@monash.edu if you have any comments or questions.