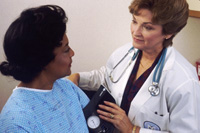 A new online service has transformed the way patients access treatment and healthcare resources in the management of chronic disease, including diabetes and asthma.

Victorian Minister for Health Mr David Davis, in conjunction with Precedence Health Care (PHC), today launched a national project, Collaborative Care Cluster Australia (CCCA), established to create new mobile and online services that transform medical healthcare.

The core initiative of the CCCA project was a new online service, known as Chronic Disease Management-Net (cdmNet), developed to enable patients, their GPs and allied healthcare professionals to manage chronic disease through sharing medical histories, test results, up-dates on patients' conditions, send referrals and set appointment reminders.

CEO of PHC Professor Michael Georgeff, from Monash University's School of Primary Health Care, said the service would assist healthcare providers to optimise treatments for chronically ill patients.

"Chronic disease is one of the greatest challenges to medical practice as we know it. Providing integrated online resources that allow patients to better manage their health in consultation with medical professionals is highly relevant in 21st century healthcare," Professor Georgeff said.

More than 10,000 chronic care patients, 1000 GPs and 3000 allied health practitioners have trialed the national service and indicated higher quality care, enhanced productivity of the GP practice and expanded participation of allied health and other care providers.

Pro Vice-Chancellor (Berwick and Peninsula), Professor Leon Piterman, led a team of researchers at Monash in the development, evaluation and national testing of the tool.

"We're now able to demonstrate that cdmNet improves adherence to the care plan and follow up of the plan. This leads to definite improvements in the control of diabetes, blood pressure, blood sugar and so on," Professor Piterman said.

"We're seeing improvements in the clinical condition of diabetes patients and cardiovascular risk factors associated with diabetes.

"What cdmNet has done is provide an efficient clinical information system that makes health records available and accessible electronically. This supports the GP's decision making. It also provides a delivery system for information sharing and feedback with the care team. It ensures the team is working cohesively."

For the first time in Australia, patients using the program can access their care plan in a pharmacy using a simple barcode.

In the future, patients and their carers will be able to join a care conference with their GP and specialists, accessed at the press of a button from cdmNet, by video, voice or online.

The CCCA is supported by the Victorian Government. The Minister encouraged GPs, patients and allied health professionals around the country to utilise the new capability in the management of chronic illness and help reduce a $60 billion healthcare burden.

CCCA partners include Precedence Health Care, Fred Health, Cisco Systems, Monash University, the Australian E-Health Research Centre (CSIRO), Baker IDI, Southern Health, Royal District Nursing Service, South Eastern Melbourne Medicare Local, Bupa, Diabetes Australia, and the Royal Australian College of General Practitioners.