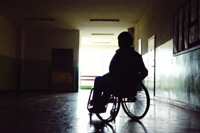 On Tuesday 03 APRIL 2012, the Prime Minister, Minister for Disability Reform, and Parliamentary Secretary for Disabilities and Carers announced the recipients of the Supported Accommodation Innovation Fund (SAIF). Monash University, along with 21 organisations across Australia, will share $60 million to help build community-based accommodation for adults with severe or profound disability. The initiative has the capacity to help reduce the number of younger people with acquired disability who are cared for in nursing homes, or those who are at risk of placement in residential aged care.
The innovative accommodation and support project proposed by Monash University's Department of Occupational Therapy staff Assoc. Prof Louise Farnworth and Ms Libby Callaway brings together four not-for-profit organisations: Mission Australia (MA) Housing, Monash University (Peninsula Campus), Yooralla and the Summer Foundation Ltd. This project, which is the recipient of $1,939,000, will establish new accommodation places for up to six people with severe or profound disability in need of long-term supported accommodation to live in, and be a part of their local community.
The accommodation will be offered within a group of newly built, mixed purpose units, some of which will offer housing and twenty-four hour support to people with disability and some which will offer Monash University student accommodation. The project will be delivered in two stages, with stage one being the housing for people with disability, funded by the SAIF and delivered by MA Housing. Yooralla will provide 24-hour support to residents with disability, funded by the Victorian Department of Human Services. The student accommodation will be delivered in a stage two development by Monash University. Monash will provide the land for this project, based on the edge of the Monash University Peninsula Campus in Frankston. The property location will allow residents the opportunity to access existing recreational, social, employment and educational services available on the Peninsula Campus, including the Monash Peninsula Activity and Recreation Centre which opened in early 2012.
This project offers further innovation in a nation-first proposal to integrate undergraduate clinical training into a real-life and non-traditional community setting, via the capacity to offer residents with disability the choice to access targeted support through health profession student placements within their accommodation. With goal-driven intervention directed by the person with disability and their support network, the project aims to deliver innovative, inter-professional, hands-on, clinical training of students from seven disciplines from Monash Universities Faculty of Medicine, Nursing and Health Sciences up to 40 weeks of the year. It extends the distribution and capacity for teaching and clinical training outside the currently available health care settings to meet the individual and real-life aspirations of the person with disability. The final outcome will be Monash University-trained health professionals entering the workforce with the competencies required to practice in contextualised community settings and better understand the lived experience of people with severe neurological impairments and associated complex care needs.
The Summer Foundation and Monash University will evaluate this project, and the quality of life outcomes for residents, using an empirical research approach, as well as making recommendations for further refinement of the clinical training model. Key learnings from the Summer Foundation's current research into smart home technology will be applied to this project, ensuring face-time communication by support staff and residents, as well as opportunities for social networking and safety monitoring across units as required, whilst providing the dignity of risk available to a person living in their own home, as independent unit living does.
In summary, this project creates two major outcomes:
Innovative, age-appropriate supported accommodation for people with profound disability that promotes real choice, empowerment, wellbeing and community participation.
A nation-first inter-professional clinical training experience, driven by the person with disability and their support network, for students from seven disciplines within Monash Universities Faculty of Medicine, Nursing and Health Sciences.