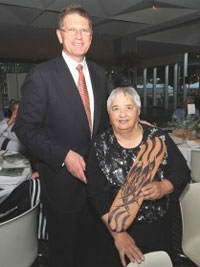 Premier Ted Baillieu and Aunty Joan Vickery AO, Photo: Wayne Quilliam
27 February 2012
A life-long dedication to improving the lives of Aboriginal people has seen a Monash University advisor, and pioneer in Indigenous health, recognised on the Victorian Government's inaugural Indigenous Honour Roll.
Joan Vickery AO, a key representative on the University's Harvest Alliance School for Indigenous Health's (HASIH) Community Reference Group (CRG), and a Gunditjamara Elder, was one of 20 Victorians to be named on the Honour Roll.
Ms Vickery, better known in the community as Aunty Joan, was the first Aboriginal health worker in Victoria, and established the first Koori Diabetes program in association with Professor Paul Zimmet of the Baker IDI Heart & Diabetes Institute, an Adjunct Professor with HASIH.
Acting Head of HASIH, Gregory Phillips said the induction of Aunty Joan was an acknowledgement of her significant contribution to Indigenous health in Victoria.
"Aunty Joan's eldership, skills as a trained public health professional, and cultural and strategic guidance will be critical to HASIH's development, and Monash University's foray into Indigenous health scholarship," Mr Phillips said.
"Aunty Joan will, along with her other CRG colleagues, oversee HASIH's community engagement and development activities, assist in planning better curriculum, research protocols, research, and student services."
The Victorian Indigenous Honour Roll is part of the Victorian government's broader commitment to closing the gap between Indigenous and non-Indigenous Victorians.
In presenting the awards, Victorian Premier Ted Baillieu said that the Honour Roll acknowledged the legacy and achievements of Indigenous Victorians, who have made, and who continue to make, lasting contributions to society.
Eminent Indigenous leaders Mrs Geraldine Briggs AO and Mrs Merle Jackomos AOM, after whom the new halls of residence at the University's Clayton campus were named, were also inducted into the Honour Roll.
For more information on the inaugural inductees visit the Department of Planning and Community Development website.