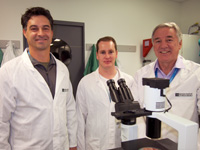 Monash Institute of Medical Research scientists may have found a way to block infection from a range of viruses, according to a paper published today in the prestigious journal Immunity.

The paper, Regulation of Actin Dynamics by Protein Kinase R Control of Gelsolin Enforces Basal Innate Immune Defense, looks at the role of the cellular scaffold in blocking the movement of viruses through our bodies.

The research team, led by Dr Anthony Sadler, identified that our immune system is able to resist the first step in viral infection, entry to the cell. By discovering how this is achieved, the team has revealed an approach that could be exploited to enable broad protection from viral infection.

Dr Sadler said the findings showed that the Protein Kinase R (PKR), which had already been shown to repress viral infection, inhibited the activity of a second protein, Gelsolin.

As Gelsolin functions to remodel the actin constituent of the cellular scaffold, this activity of PKR increased the rigidity of the cell membrane, thereby preventing virus from entering the cell.

"A novel aspect of this paper was recognising that PKR is constantly inhibiting viral entrance to our cells, prior to infection," Dr Sadler said.

"This low-level protection is enhanced during a viral infection by induction of PKR during the antiviral response."

Dr Sadler and his team demonstrated that directly reducing the levels of Gelsolin reinforced this protective barrier against a range of viruses, including the agent of the common cold, Rhinovirus, another agent of respiratory infection, Adenovirus, and the human herpes simplex virus 1, which produces cold sores.

"Our objective now is to identify a drug to target Gelsolin and other actin-modifying proteins for potential use as a generic antiviral treatment," Dr Sadler said.

MIMR's Director and study co-author Professor Bryan Williams said this work was the culmination of many years of effort and with funding originally from the US National Institutes of Health.

"The challenge now is to take the next step and translate these observations into clinical utility.

"With an appropriate level of funding, such studies can be contemplated in the new Monash Health Translation Precinct facility, currently being planned at the Monash Medical Centre with support from the Commonwealth Government," Prof. Williams said.