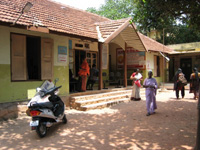 A $1 million government grant will ensure a landmark study of the relationship between income and high blood pressure among people in rural India will proceed this year.
The Minister for Health, The Honourable Tanya Plibersek MP today announced National Health and Medical Research Council (NHMRC) funding to support the study, a collaboration between Monash University and the George Institute.
More than 150 million Indian adults have high blood pressure, and the majority of these live in rural areas. However, most research to date has concentrated on high blood pressure, or hypertension, in urban areas. As a result, little is known about barriers to diagnosis and treatment outside the cities.
Professor Amanda Thrift, of Monash University's Faculty of Medicine, Nursing and Health Sciences Southern Clinical School, will lead the study in collaboration with Professor Brian Oldenburg of the School of Population Health and local investigators in India. The investigators including Monash's Velandai Srikanth, Ajay Mahal and Roger Evans will canvass the population in three rural regions at different phases of economic and social development.
By researching populations at different socioeconomic levels, the investigators will assess whether a common approach to managing hypertension across rural regions is appropriate, or if more targeted initiatives are needed.
Professor Thrift said the epidemic of cardiovascular disease occurring in developing nations was largely driven by the rapidly increasing prevalence of high blood pressure.
"As countries undergo economic and social transition, we've noted an alarming rise in hypertension in urban areas. However, our research indicates that the prevalence of hypertension in rural areas is higher than would be expected, including among people who live below the poverty line," Professor Thrift said.
"The lack of knowledge of barriers to managing hypertension in rural regions of developing countries is a glaring gap in our knowledge-base. I'm really pleased that the NHMRC has recognised this."
Professor Oldenburg has an ongoing collaboration with colleagues at the world-renowned Sri Chitra Tirunal Institute for Medical Sciences and Technology in Kerala, India.
"This project will help us better understand the rise of chronic conditions in India and how this is related to changed living conditions. It will be a very exciting addition to our existing joint research program in Kerala," Professor Oldenburg said.
The results, expected in late 2015, will help develop and monitor low-cost, effective public health initiatives to improve the prevention and management of hypertension in poor areas.