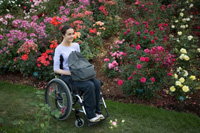 Young people with disabilities live more enriched lives when provided with age-appropriate accommodation in the community, rather than being forced to live in nursing homes, according to new research.

Released today by the Victorian government, a study led by the Summer Foundation, in conjunction with Monash University, found alternative accommodation and support options provided by the five year, $60 million Victorian Younger People in Residential Aged Care (YPIRAC) initiative significantly improved the lives of young people with disabilities who otherwise would be forced to live in aged care. The program aimed to provide better living options for young people with disabilities living in, or at risk of entry to, residential aged care (RAC).

The research found those who moved out of nursing homes through the YPIRAC program experienced improved quality of life when provided with supported accommodation in their local communities. They were provided with greater opportunities to make everyday choices and were able to access their community more regularly.

Libby Callaway from the University's Department of Occupational Therapy said the research highlighted the improved health, social and community integration benefits for those who moved to age-appropriate accommodation in the community. These findings were further highlighted within interviews with family members of the younger person.

"We found those who were living in a more home-like environment were able to increase their independence in a range of personal and domestic tasks, participate in community activities, and experience basic everyday choices that most people take for granted, including the timing of their meals or when the person would like to go to bed," Ms Callaway said. 

The Victorian YPIRAC initiative, part of a national initiative across all states and territories of Australia ended in June 2011. The five year program saw a 40 per cent reduction of people aged under 50 living in Victorian nursing homes.

Co-researcher and Summer Foundation CEO Dr Di Winkler said the study highlighted the need for governments, disability services, health and aged care services to work together to programs that would prevent new admissions of young people into RAC.

"More accommodation services must be built and we need services that prevent nursing home admissions and create pathways back to community living otherwise 200 people under 50 will still be admitted to nursing homes each year in Australia," Dr Winkler said.