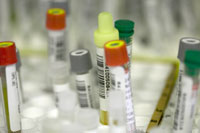 Andrology Australia welcomes new research indicating scientists may be a step closer to discovering how to grow human sperm in the lab, but Professor Rob McLachlan says there is still a long way to go. A recent study published in the
Asian Journal of Andrology
found that it was possible to change mouse testicular germ cells into sperm in the laboratory environment.
Andrology Australia Director Professor Rob McLachlan said this development could have a major impact on future treatments for male infertility.
"Problems with the number or quality of sperm produced stop many couples from becoming pregnant," he said.
"This new discovery could allow infertile men to father children rather than using a sperm donor."
Professor McLachlan said infertility affected about one in six couples, and in about 20 per cent of those couples, the problem was with the male partner.
The most common cause of male infertility is a problem in the sperm production process in the testes.
However, Professor McLachlan cautioned that this type of research would not assist all infertile men.
"Unfortunately, some men do have any types of early sperm cells present in their testes, so this type of work will not assist them."
He also pointed out that the work in mice required much more research before it could be applied in fertility clinics.
"For example, the authors were not able to check whether these sperm were able to fertilise an egg. Also there are safety concerns such as the genetic health of sperm produced in the laboratory – there will need to be extensive testing before considering this approach in humans."
At present, many men with fertility problems can become the fathers of healthy children. Some men receive treatment and then conceive naturally. Others use assisted reproductive technologies, donor sperm, adoption or foster parenting.
For more information on male infertility and other male reproductive health topics, visit www.andrologyaustralia.org.
Andrology Australia (The Australian Centre of Excellence in Male Reproductive Health) is the peak Australian authority on male reproductive health and associated conditions. It is an initiative funded by the Australian Government Department of Health and Ageing and is administered by Monash University.