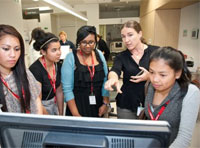 Students from seven secondary schools in the Dandenong area are being prepared for VCE success with Hands on Health, a social inclusion initiative for students aspiring to study in the medical and health fields at the tertiary level.
This dynamic program is providing an insight into possible career choices through experimental activities held at Southern Health's Dandenong Hospital and Monash University's Clayton campus.
Ali Terai, Hands on Health's program manager, said this program was the first of its kind being held for students in low socio-economic status (SES) schools.
"It's all about engaging, motivating and inspiring these secondary students from Dandenong. For many of these students, the idea of going to university is a foreign concept," Mr Terai said.
"We know that these students have the potential; we're just helping them unlock it by giving them the opportunities and asistance to get there."
The Hands on Health sessions are facilitated by staff and students from Monash University's Faculty of Medicine, Nursing and Health Sciences. These high school students have dreams of becoming doctors, paramedics, physiotherapists and more.
"The Faculty has a strong commitment to health and education, and Hands on Health is a demonstration of this involvement. This program was designed to inspire these students that university is a real option," Mr Terai said.
The students receive assistance with VCE preparation, team building, goal setting and communication sessions, as well as visits from motivational speakers and the chance to interact with current undergraduate students who are the ambassadors for the program.
Information on course and career opportunities are also provided to the students, who visit Dandenong Hospital to gain exposure to a health care delivery environment.
Hands-on sessions provided by Monash University include workshops on anatomy and physiology, as well as body painting activities led by Professor Paul McMenamin, Department of Anatomy and Developmental Biology, to illustrate the human form beneath the skin.
Over 180 students from the Greater Dandenong area are scheduled to take part in the two-day program for Year 11 Students, from 19-20 January and the four-day program for Year 12 Students, from 23-27 January.