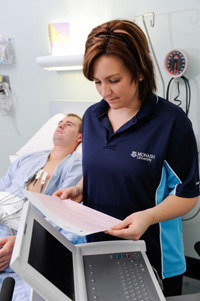 Health students will strengthen their interprofessional learning and practice through a new simulated learning program being implemented across the Gippsland region.

The Gippsland Regional Interprofessional Partnership in Simulation (GRIPS) initiative, a 12-month Health Workforce Australia (HWA) funded project which commenced in July, will see health students undertake simulation placements at partnering health services in the Gippsland region.

In a simulated learning environment within partner practices, the program led by the Monash University's Department of Rural and Indigenous Health (MUDRIH), will see health students across various disciplines conduct appointments with simulated clients/patients about health related issues. Following the sessions, a performance evaluation is carried out with an interprofessional simulation facilitator in conjunction with feedback and recorded sessions.

Interprofessional Collaboration Team Leader Mollie Burley, from MUDRIH, said the program aimed to improve communication, co-operation, collaboration and teamwork for health students undertaking clinical training placements at partner health services.

"Interprofessional practice is essential for real-world learning and delivers health services that are safer, more effective and patient centred," Ms Burley said.

"Effective team-based practice and support from health professionals allows students to put to use their knowledge and skills, to better understand the work of various health professions, and to deliver better care."

Ms Burley said the program is currently seeking Simulated Client volunteers from the Gippsland area.

"Simulated Client volunteers follow a script that incorporates medical history and conditions which require students to engage in client/patient centred care and problem-solving," Ms Burley said.

GRIPS is funded through the Simulated Learning Environment program of Health Workforce Australia as an Australian Government initiative.

Partnering health services include Gippsland Lakes Community Health, Ramahyuck District Aboriginal Corporation, West Gippsland Healthcare Group – Community Health and Bass Coast Regional Health.