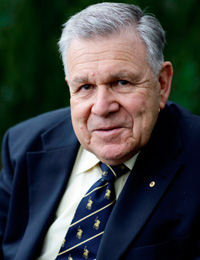 A survey of Australian GP's has seen iconic GP and celebrated author John Murtagh named as their favourite medical hero.

In the survey, conducted by the Medical Observer, 60 per cent of the GPs named Professor Murtagh, from Monash University's Department of General Practice, as their first choice hero above other well-known medical luminaries including Professor Fred Hollows and Dr Victor Chang.

Professor Murtagh is most famous for authoring the 1535-page book John Murtagh's General Practice, published in 1994, which quickly became the seminal reference for medical students and professionals. The preeminent GP's text has been adopted widely both in Australia and Asia and is the highest selling medical textbook of the past 20 years.

"I feel very honoured that people have that sort of response to my work," Professor Murtagh said.

"I like people and I like students, and although it is sometimes a little embarrassing when people make a fuss, it also gives you a buzz to see your work has meant something to people."

The book is one of the first comprehensive texts on General Practice and has been adopted as the text book of choice for revision of the Chinese health care system.

"When it came to writing General Practice, I tried to write simply and to address common problems like dandruff, and hangovers, and bad breath – things you don't get in the usual textbooks."

Also high on the list of inspirational medicos in the survey of 150 GPs were Professor Fred Hollows (55 per cent), Dr Victor Chang (43 per cent), Sir Edward 'Weary' Dunlop (28 per cent) and Dr Fiona Wood (22 per cent).

Professor Murtagh graduated from Monash in the first MBBS class of 1966 and spent ten years working in a country medical practice in Victoria before returning to the University to begin his teaching career.

Although retired from full time work at Monash, he is still active in the Department of General Practice and continues to deliver the general practitioners update course annually.

As for his own heroes, Professor Murtagh listed bionic ear inventor Professor Graeme Clark, pioneering medical missionary Dr Albert Schweitzer, Australian obstetrician Dr Catherine Hamlin, and Flinders medical dean, communicable disease researcher and former RACGP president Professor Michael Kidd.