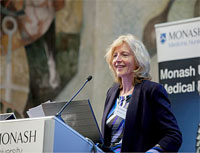 The Monash University Medical Foundation recently hosted a panel discussion as the annual event for the Finkel Chair in Global Health.  The topic was 'Is there a financial fix for global health?'
The Finkel Chair in Global Health was made possible by the philanthropy of Dr Alan Finkel AM and Dr Elizabeth Finkel, through their foundation.
Dr Elizabeth Finkel spoke about her interest in global development and public health.
"I was in Botswana a few years ago doing research for my recent book. I spent a day with a doctor in an AIDS ward at Princess Marina Hospital," said Dr Finkel.
"Botswana is the showpiece of the world. They are the country that is rolling out free HIV medication to the people who need it, yet the AIDS wards were full of dying young women and men. I couldn't figure out why. It had to be a failure of the public health system."
Finkel Chair, Professor Ajay Mahal presented his view of the topic, explaining that government and household spending on health care, at $7.1 trillion, is the largest sector of the global economy.
"However, there are three main challenges to sustaining health financing.  The first is 'last mile delivery', that is, getting health care to the most marginal populations including people who are poor or live in remote locations," said Professor Mahal.
"The second factor is the rapid greying of the world population.  The third challenge is what I call the 'nasty surprises' including superbugs and new diseases."
Professor Greg Barton moderated an active panel discussion with Professor Mahal, Dr Michelle McIntosh, Mr Iyinoluwa Ologe, Professor Sharon Lewin and Professor Paul Hertzog.
Talking points ranged from leadership to cultural issues and the impact of corruption.  There were perspectives from various fields on the panel and in the audience.
Professor Sharon Lewin spoke about the progress over recent years with HIV/AIDS treatment and research.
"When HIV/AIDS was first discovered it was a death sentence," said Professor Lewin.
"Today, with appropriate treatment, people with HIV can have a normal lifespan.  However we are now seeing early onset of some of the diseases of ageing."
The event concluded with a number of insightful questions from the audience.
The Faculty of Medicine, Nursing and Health Sciences live tweeted the event for people who were unable to attend. View the stream.