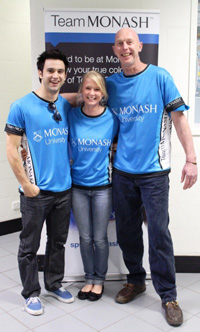 The team captains that will lead the 490-strong TeamMONASH™ army into the 2012 Australian University Games (AUG) have been selected.

Students Jacqueline Gurr and Andrew Rabinovich were announced as the team captains by Director of Monash Sport, Martin Doulton, at the final PricewaterhouseCoopers (PwC) Team Manager Leadership session of the 2012 AUG campaign last weekend.

"We're extremely excited about this announcement. With both of these amazing students leading TeamMONASH™ into the 2012 AUG, we are bound for success," Mr Doulton said.

Jacqueline, a third year Physiotherapy student, balances her studies with her aspirations of representing Australia in the 470 class sailing in Rio 2016. She is a current National Sailing Champion, is in the selection mix for the 2013 World University Summer Games in Kazan and will represent Monash University at the AUG for the third year in a row.

Andrew, a second year MBBS student, was on the semi-pro satellite tennis program while he completed his Bachelor of Physiotherapy from which he graduated in 2010. This is Andrew's third year managing the tennis team at the AUG and his seventh year competing.

"We believe TeamMONASH™ has the largest and best prepared team at this year's AUG. With 490 athletes across 27 sports and a support crew of 80 in tow, including over 20 second and fourth year Physiotherapy students who have volunteered their services to provide sports trainer coverage for our massive team," Mr Doulton said.

"There is no doubt the travel assistance grants provided through the recent introduction of the Student Services Amenities Fee (SSAF) has helped many members of TeamMONASH™ afford to get to the AUG," Mr Doulton said.

In addition, 35 student sport managers have undertaken a leadership program with PwC that prepared them for the challenges of leading their peers and guide the University's teams at the AUG.

The 2012 AUG will run from 23-28 September in Adelaide, South Australia.
Image caption: Andrew Rabinovich, Jacqueline Gurr and Martin Doulton sporting their TeamMONASH gear