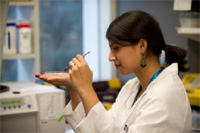 Victorian health research has received a boost with the Federal Government today committing $71 million for a new building and facilities at the Monash Health Translation Precinct (MHTP).
A partnership between Monash University, the Monash Institute of Medical Research, Southern Health and Prince Henry's Institute, the MHTP is focused on getting cutting edge research outcomes into the clinic as quickly as possible.
The new MHTP facility at Monash Medical Centre will include a series of linked, disease-themed laboratories and clinical research units, and will expand to 800 the number of laboratory and clinical researchers accommodated on the campus.
Monash University Chancellor, Dr Alan Finkel, said the announcement was exciting.
"This will result in the development of an academic health science precinct that will integrate medical research, teaching and health care, resulting in better healthcare, more rapid introduction of innovation and the training of a highly skilled health workforce,'' Dr Finkel said.
Director of Monash Institute of Medical Research, Professor Bryan Williams, said the new facility would provide an exceptional opportunity to translate basic laboratory observations to clinical practice.
"It will provide medical research scientists with ready access to clinicians and patients and expand the international reputation of medical research conducted at the MHTP," Professor Williams said.
Southern Health Chief Executive, Shelly Park, said the Commonwealth Government's announcement reinforced the Precinct's reputation as a world leader in translating innovative scientific discovery into the best possible patient outcomes.
"The goal is to build a dedicated facility to further support translation of research discoveries for the advancement of the health of the community," Ms Park said.
Director of Prince Henry's Institute, Professor Mathew Gillespie, said the MHTP would create an optimal setting to foster the evergrowing need for collaboration between laboratory and clinical research.
"This is a significant development in the landscape of medical research," Professor Gillespie said.
"This investment will create a unique research environment which will actively encourage the sharing of resources and knowledge."
For more information: http://www.mhtp.org.au/