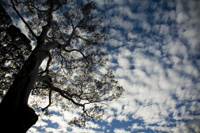 6 November 2012
Speaking today on the changes and uncertainties being faced by rural people, Head of Monash University's Department of Social Work, Professor Margaret Alston OAM is determined to keep rural people, policies and places on the national agenda.
Presenting on the changes and uncertainties being faced by rural people relating to climate, policy, population movements and socio-economic factors and their impact on Australia's rural heartland, Professor Margaret Alston's public lecture is one of 10 in the Caring for the Australian Countryside lecture series, hosted by the Australian Academy of Science today.
"My presentation will focus on issues of national significance that are located in rural places – issues such as  water, food production, climate change, environmental issues, telecommunications, health and education," Professor Alston said.
"I will examine some of the underlying factors that shape uncertainty and dissect unstated assumptions that suggest technological and economic 'certainties' will ensure that rural people will adapt and rural places will reshape in efficient, down-scaled ways."
Professor Alston will argue for greater attention to the social aspects of rural life and suggest that the goal of rural policy should be to sustain vibrant, well-serviced and supported communities.
Professor Margaret Alston has a long career in social work education in rural Australia. She is a well-known public commentator and has researched significant issues such as climate, water, and rural social change to social work analysis.
Her experience includes serving on a number of boards and she been an advisor to a socio-economic working group for the Murray-Darling Basin Authority and to Health Workforce Australia working group. Her work has also been published widely in the field of rural gender and rural social issues and has recently been appointed as a gender expert advisor to the United Nations Environment Program (UNEP).
In 2010, Professor Margaret Alston was awarded one of Australia's highest honours, the Medal of the Order of Australia, for her services to the community, social work and to rural women.
The free public lecture Rural Policy, People and Place: sustainability in an uncertain future will be held on Tuesday, 6 November 2012 at the Australian Academy of Science, Canberra, ACT, from 5.30 - 7pm.
For further information or to register, visit the Australian Academy of Science website.