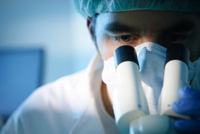 Three Monash University researchers have been awarded prestigious Victoria Fellowships to support projects with substantial health and environmental benefits.

Dr William Gee from the Faculty of Science, and Dr Dion Stub and Mr Nicholas Tobias from the Faculty of Medicine, Nursing and Health Sciences were awarded the fellowships yesterday by Victorian Minister for Innovation, Services and Small Business, The Honourable Louise Asher MLA.

Dr Gee, a synthetic chemist and post-doctoral researcher, is developing catalysts that will enable the creation cheaper, greener plastics and convert toxic waste into more benign materials.

Dr Stub, a cardiologist, who is undertaking his PhD through Monash and the Baker IDI Heart and Diabetes Research Institute is investigating new and better ways to manage cardiac arrest and heart attack.

PhD student Mr Tobias is investigating an enzyme with the potential to assist in the development of drugs, such as antibiotics, immunosuppressants and anti-cancer therapies, and in the development of biofuels and biodegradable plastics.

Monash Provost and Senior Vice-President, Professor Edwina Cornish congratulated the three researchers.

"It is a testament to the quality of their research that these scientists have been recognised in such a manner early in their careers," Professor Cornish said. 

"The potential benefits of these projects, to both the health of the community and the environment are clear. I thank the Victorian Government for recognising the value of this research, and the talent of the researchers, whose best work is doubtless still ahead of them."

The Victoria Fellowships, each worth $18,000, were first awarded by the Victorian Government in 1998 to recognise young researchers with leadership potential and to enhance their future careers, while developing new ideas which could offer commercial benefit to Victoria.

In all, 12 young Victorian researchers were awarded Fellowships in 2012.

The Victoria Prize for Science and Innovation in Physical Science, was also awarded yesterday to Monash researcher Professor Ana Deletic, for her research into more sustainable use of water in urban areas.