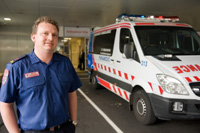 A researcher and former paramedic has won a prestigious award for his investigation of the most effective pain relief for pre-hospital patients with severe trauma.

Dr Paul Jennings, Director of Research  in the Department of Community Emergency Health and Paramedic Practice, has taken out the Falck Scientific Abstract Award in the Emergency Pre-Hospital Care category for his paper on the benefits of a combination of ketamine and morphine for pre-hospital pain relief.

Dr Jennings who worked as an intensive care paramedic for over a decade before moving into research, said pain was a problem for most pre-hospital patients, especially those suffering major trauma.

The award, which includes prize money of €5000,was presented at the recent International Conference on Emergency Medicine, held in Dublin.

"There are limited options available to paramedics for managing very severe pain. Some people just don't respond to morphine," Dr Jennings said.

"We found that ketamine is an excellent adjunct. When used in combination with morphine, it can be very effective in managing pain."

Dr Jennings said that he was very pleased that research conducted with Ambulance Victoria had been recognised on an international scale.

"I was also really impressed that pre-hospital research was acknowledged with an award at an emergency medicine conference," Dr Jennings said.

Following Dr Jennings' study, the air-wing of Ambulance Victoria has started using ketamine, and a rollout to road ambulances is being considered.

Monash and Ambulance Victoria researchers Professor Peter Cameron, Associate Professor Stephen Bernard, Associate Professor Tony Walker, Associate Professor Damien Jolley, Associate Professor Mark Fitzgerald and Mr Kevin Masci worked with Dr Jennings on the study.