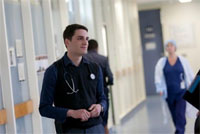 The number of Australia's medical graduates is projected to increase by almost 50 per cent to 4000 by 2016 and new approaches will be needed if all of them are to find internship places.

In research published today in the Medical Journal of Australia, Associate Professor Catherine Joyce of Monash University's Department of Epidemiology and Preventive Medicine has reviewed what Australia's medical workforce will look like in 2025 based on current trends.

Associate Professor Joyce said bottlenecks in progressing graduates through training was one of a number of planning and policy issues that must be addressed if Australians are to continue to be supported by an adequate number of medical professionals.

"The number of medical graduates doubled between 2000 and 2010 to 2733, and this is expected to rise to 4000 over the next four years," Associate Professor Joyce said.

"To cater for these increases, intern places will need to increase by 1000 over that period, an increase which will require a more flexible approach that includes primary care and private sector placements, in addition to those at public hospitals. In the current model, some graduates are already finding it difficult to obtain a placement and this situation is likely to worsen." 

The analysis showed that the increases in doctors entering the workforce were accompanied by a decline in the average hours worked by Australian doctors.

"Between 1999 and 2009 the average hours worked by doctors decreased from 45.6 to 42.2 per week. Effectively, that's 6000 fewer full-time equivalent doctors in the workforce," Associate Professor Joyce said.

"Doctors are increasingly influenced by the desire for work-life balance and this is reflected in reduced working hours, almost across the board."

Further challenges included a large cohort of doctors approaching retirement in coming years and shortages in various specialties, such as psychiatry and rural general practice.

Associate Professor Joyce said the increasing demand for primary health care, due to Australia's ageing population and increasing prevalence of chronic disease, will need to be addressed through a range of strategies including enhancing team-based care and supporting use of new technologies in providing care.