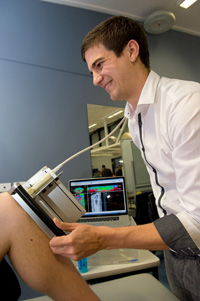 Sean Docking, a PhD student in the Department of Physiotherapy recently won a prestigious prize at the 2nd International Scientific Tendinopathy Symposium at The University of British Columbia in Vancouver. The conference was attended by 100 of the world's most distinguished clinical and scientific researchers currently working in the field.

Sean received the award for the best poster presented at the conference. This prize was open to all at the conference, from the most senior professors to those who are newly enrolled.

Sean is investigating the characteristics of equine tendon injury for his PhD. "There is extensive research describing the structure and composition of normal tendons and late-stage degenerative tendon pathology, yet we do not yet understand the primary and key changes that lead to late-stage pathology," says Sean. "My research involves the use of Ultrasound Tissue Characterisation (UTC), a new and novel technique that allows measurement of subtle changes in tendon structure that are not detectable using conventional imaging techniques."

The poster Sean submitted to the symposium quantified tendon structure in humans with tendinopathy (clinical symptoms of the tendon) in one of their Achilles tendons. Interestingly, both Achilles tendons were structurally compromised in patients that have only ever had symptoms on one side. The changes in the asymptomatic tendon were subtle and to a lesser degree than the symptomatic tendon.

"These findings are interesting as it may predispose the tendon to injury in the future and account for the high bilateral injury rate associated with Achilles tendon injury," says Sean. "Also, the results are important for clinicians as treatments that only focus on treating one side may be inadequate and lead to elite athletes missing more games or people not being able to participate in healthy physical activity due to reinjury on the opposite side."

"It was an amazing honour to receive this recognition from researchers whom I have studied and admired," added Sean.  "The fact that my peers have read my research and believe it to be new, novel and important in our understanding of tendon injury is award enough, the recognition with the award was an added bonus."

"Professionally, my award is recognition of the entire tendon research group at the Department of Physiotherapy, lead by Professor Jill Cook," says Sean.  "Our team is continually involved in novel research where the end goal is to reduce the impact of tendon injury to keep people physically active."

Sean will further his research efforts with a collaborate project at Umea University.