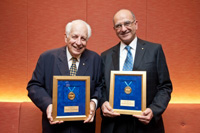 A leading haematologist and prominent immunologist have been honoured with this year's David de Kretser Medal and Lifetime Achievement Award.

Professor Hatem Salem, Head of Clinical Haematology at Monash University and the Alfred Hospital, was announced by the Dean, Professor Christina Mitchell, as the recipient of the 2011 David de Kretser Medal for his exceptional contribution to the Faculty of Medicine, Nursing and Health Sciences.

Professor Salem's clinical and laboratory research interest is in the field of thrombosis and haemostasis. In 2010, Professor Salem was awarded the Member of the Order of Australia (AM) for service to medicine in the field of haematology as a clinician, educator and researcher and also through the establishment of the Australian Centre for Blood Diseases.

"I'm grateful and also humbled to be given this award," Professor Salem said. 

"Success is best achieved through a team effort.  I've been blessed to have good mentors and wonderful people to work with and everyone in our team should be recognised."

The Lifetime Achievement Award, which celebrates an individual who has made an outstanding contribution, both nationally and internationally, to human health and wellbeing, was awarded to Sir Gustav Nossal, with the citation being read by Professor Ross Coppel.

Sir Gustav's research accomplishments are world-renowned. As a researcher and Director of The Walter and Eliza Hall Institute of Medical Research (WEHI, 1965-96), he helped build the foundations of modern immunology while improving global health through his long-term involvement with the World Health Organisation.
Sir Gustav extended his gratitude to Professor Mitchell and the Monash community.

"Professor Mitchell, you and your colleagues have brought me great joy.  I thank you, I salute you and wish you well," Sir Gustav said.

Sir Gustav was knighted in 1977, made a Companion of the Order of Australia in 1989 and appointed Australian of the Year 2000.

The 7 June ceremony was held at the Monash University Law Chambers and hosted by the Chair of the Monash University Medical Foundation, Rod Chadwick, under whose auspices these awards are made each year.

The annual awards, named after David de Krester, former Governor of Victoria and long-standing contributor to the Faculty, recognise outstanding long-term contributions to the Faculty and medical science in general.