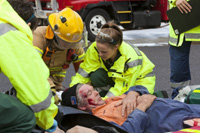 Emergency Health students from Monash University's Peninsula campus had the opportunity to practise their emergency medical skills on victims of an explosive car 'accident' over the weekend.

The controlled simulation at the CFA training grounds in Bangholme saw seven patients with varying injuries including fractures, burns and head injuries treated on the scene of the accident between the car and a BORAL tanker by the students.

Lecturer in the Department of Community Emergency Health and Paramedic Practice, Jaime Wallis, said this type of critical incident scenario plays an important part in students' learning.

"While we have state-of-the-art simulation and training facilities at the University, it is important that students have an opportunity to practise their skills in as close to real-life situations as possible," Ms Wallis said.

The students were put in a situation where patients exhibited the symptoms of their realistic injuries with the expectation that they assess and treat them before transporting them to a casualty collecting post.

Country Fire Authority, Victoria Police, the Environmental Protection Agency and Ambulance Victoria also took part in the scenario.

"While this is fantastic for our students' learning, it also gives them an invaluable opportunity to work collaboratively with other emergency services as they would have to in any real-life situation," Ms Wallis said.

The simulation exercise was sponsored by building and construction company BORAL who provided the damaged vehicle for 'realistic' vision.