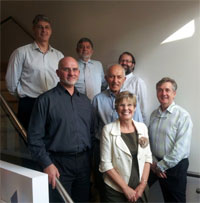 Back row (L-R):- Dr David Lyster, Professor Jim Patrick, Professor Arthur Lowery, Middle row: Professor Erol Harvey, Professor David de Kretser, Gerard Menses, Front row: Professor Lyn Beazley
Professor David de Kretser AC, one of Australia's leading scientists in male fertility, has been appointed Chair of the Monash Vision Group (MVG).
Professor Arthur Lowery, Director of the MVG said Professor de Kretser will bring a wealth of knowledge and experience across key disciplines to the MVG.
"We are extremely pleased Professor de Kretser has accepted the position of Chair of our Advisory Board," Professor Lowery said.
"Professor de Kretser brings clinical and scientific expertise as well as excellent networks across government and industry."
A former governor of Victoria, Professor de Kretser was the founding director of the Monash Institute of Reproduction and Development, now known as the Monash Institute of Medical Research.
He was a Professor of Anatomy in the University's Faculty of Medicine, Nursing and Health Sciences from 1978 to 2005 and the faculty's Associate Dean for Biotechnology Development from 2002 to 2006.
"I've watched with interest the development of the Monash Vision Group's ambitious program to harness the fields of medicine, science and engineering," Professor de Kretser said.
"I believe my own work and understanding of these disciplines may lend support to their drive to become a leading player in medical bionics."
The members of the MVG Advisory Board are Professor Lyn Beazley, Chief Scientist for Western Australia, Professor Jim Patrick, Chief Scientist for Cochlear, Gerard Menses, CEO, Vision Australia, Dr David Lyster, Manager, Research Partnerships, Monash University and Professor Arthur Lowery, Director, MVG.
Research by the MVG has recently reached a critical stage; testing for prototype microchips that will power bionic eye implants is in progress. The group aims to have a bionic eye implant ready for patient tests in early 2014.
The MVG was established in April 2010, with an AUD$8 million grant from the Australian Research Council. The MVG accommodates more than 20 leaders in physiology, neurosurgery, ophthalmology, electrical and electronic engineering, mechanical and materials engineering, mathematics and immunology.
The MVG's key partners are Monash University, Grey Innovation, Alfred Health and MiniFab.