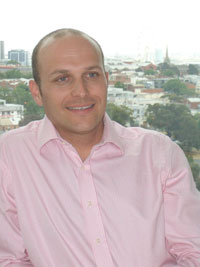 MIMR's Georg Schmoelzer has received this year's Monash University Mollie Holman Doctoral Medal for his PhD thesis Monitoring Respiratory Function during neonatal resuscitation, which was awarded in March.
This is the second consecutive year an MIMR researcher has received this prestigious award, with Dr Scott Sands winning the 2011 award.
Dr Schmoelzer worked jointly under The Ritchie Centre's Stuart Hooper as his main supervisor and Colin Morley and Peter Davis from The Women's Hospital as co-supervisors from 2008-11 while he was a Monash University PhD student.
Dr Schmoelzer, originally from Graz, Austria, said he had chosen to do his PhD in neonatal resuscitation research in Australia because of the work being done by The Ritchie Centre.
His thesis generated 11 publications and by the time his PhD was complete, Dr Schmoelzer had 15 manuscripts published.
"Obviously I was thrilled to receive the award," he said. "I will receive a medal and a certificate, but this will also hopefully assist with future funding for my research."
Georg's research focused on the fact that around 10 per cent of preterm babies struggle to breathe on their own immediately after birth.
"My research investigated how we can help babies breathe after birth," he said. "This is usually performed with a pressure generating device.
"The clinicians try to gently inflate the lungs, but those devices do not measure exactly what the clinician is doing.
"I used a respiratory function monitor to measure the clinician as they're working and how gently they inflate the lungs to help the baby breathe," he said.
"The main findings of my PhD were that clinicians are often not gentle enough during this process and in addition, I identified many different applications for a respiratory function monitor during neonatal resuscitation."

Dr Schmoelzer said the next step will be to identify the best respiratory function monitor to be used and then conduct a large multi-centre randomized control trial to study if the use of this device will make a difference or not.
His supervisor Professor Stuart Hooper said Dr Schmoelzer's award is an outstanding achievement for a researcher at his level, particularly as many of his studies were clinical and involve the study of human infants.
"Much of Georg's research is making an immediate and important impact on the treatment and care of very preterm infants and is being translated into clinical practice on an on-going basis," Prof Hooper said.
"For instance, his work on the use of respiratory function monitors immediately after birth has provided considerable evidence demonstrating the need for appropriate respiratory monitoring immediately after birth."
 This has rekindled commercial interest in developing and updating a new respiratory function monitor for use in the delivery room, which Georg is facilitating.
Prof Hooper said imaging experiments Dr Schmoelzer conducted using the synchrotron were also very successful.
"These showed that additional parameters should be incorporated into a new respiratory function monitor that will greatly increase the diagnostic information available to the clinician.
"This demonstrates that Georg has the capacity, interest and drive to use the most sophisticated scientific procedures available and liaise with industry partners to develop equipment that will improve the care and management of very preterm infants in the delivery room," Prof Hooper said.

Dr Schmoelzer has been recruited by the University of Alberta and the Royal Alexandra Hospital in Edmonton, Canada to become a Research Neonatologist. He will continue with his research into helping babies breathe
As a result of his successful PhD through Monash University which produced an outstanding number of publications, he has also been awarded a Banting Fellowship, which is the highest Postdoctoral Fellowship in Canada. (He was ranked first out of all applicants.)