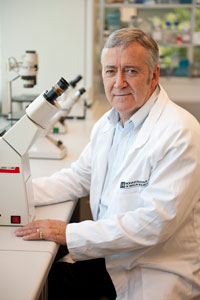 Researchers at Monash Institute of Medical Research and the Peter MacCallum Cancer Centre in Melbourne have discovered an immune signal in breast cancer cells that regulates their spread to bone. This new process could be targeted with an existing treatment to complement currently therapy and wipe out cancerous cells that have spread to the bone.
This research published overnight in Nature Medicine, is the result of collaboration between Dr Belinda Parker and team at Peter Mac's Metastasis Research Laboratory's, and Professor Paul Hertzog and group at MIMR's Centre for Innate Immunity and Infectious Diseases,.
The scientists have found an important immune signal in breast cancer cells that is switched off in some cases, enabling these cells to hide from the immune system and spread, or metastasize, particularly to bone.
The interferon immune signal is well-known to stimulate the immune attack against invading virus and bacteria and the team has found breast cancer cells in pre-clinical models emit the same interferon signals to be held in check by the immune system.
The team's findings carry great potential because interferon's immune boosting properties have already led to their use in hepatitis, multiple sclerosis and some tumour therapy. But it has never been tried in breast cancer metastases treatment. 
These interferon-based therapies effectively reactivate the immune signal in pre-clinical breast cancer models. The team hopes they will restore the immune signal in breast cancer cells that are roaming in the body, rendering them detectable and open to attack from the immune system, blocking their growth into dangerous secondary tumours.
MIMR's Centre for Innate Immunity and Infectious Diseases Director Prof Hertzog said while they had been recognised as effective treatment for infectious diseases and immune disorders, it was totally unexpected to discover that this response was important in breast cancer metastases.
"This collaborative research project has the potential to be translated into new diagnosis and treatment options targeting breast cancer metastases, something that we could not have predicted five years ago," Prof Hertzog said.
MIMR's role in this discovery:
This collaboration has brought together Dr Parker's experience in breast cancer, in particular breast cancer metastasis, using various approaches including preclinical models and molecular genetics, with Prof Hertzog's team's expertise in interferon biology, mouse models, genomics and bioinformatics.
"The body has evolved a system to fight infections and inflammatory diseases but normally we would not identify in cancer situations.  Prof Hertzog said. "The first component of this response system – the earliest one – we call the innate immune response was active in breast cancer in the primary breast cancer sites.
"This was initially discovered in a pre-clinical model and we found in fact this innate system, which involves a particular component of an interferon response, was switched off in metastasis," he said.
Interferons are the proteins host cells released in response to the presence of pathogens such as viruses and bacteria and in this case, tumour (cancer) cells. They trigger the immune system's protective defences that eradicate pathogens or tumours.
Dr Belinda Parker's team then built up model systems to compare what was happening in a primary breast cancer site versus what was happening in a metastatic site. The team discovered this by taking a broad-ranging genomics approach. This entails using sophisticated technology to measure the products of every gene in a human cell (i.e. the approximately 28,000 genes that comprise the HUMAN GENOME). They compared the expression of the genome in primary tumours (in the breast) to the genes expressed in the tumour cells that has spread to bone.  
"To compare numbers like this – thousands of gene products to thousands of gene products – you need particular skills," Prof Hertzog said. "You need high-end genomics technology to do those measurements and we did that using DNA Mircoarray experiments. But to analyse the outputs from these machines, you need people with particular skills to interrogate large data sets, namely bioinformatics or systems biology.
"MIMR's Centre for Innate Immunity and Infectious Diseases has a bioinformatics team which combines its skills in biology, particularly genomics with mathematics and computer programming and finds ways to analyse large components much like astrologist find patterns in the constellations composed of hundreds of stars and planets.."
Prof Hertzog said using this combination of genomics and bioinformatics and specialised databases they have established to help perform such analyses, the team identified large numbers of genes that changed (in this case they were turned off!) – there were about 540. The team then investigated those genes' properties and then looked for common elements.
"Indeed the significant proportion of this so-called "gene signature"  looked like they would be under the same type of regulation as occurs in immune response to infection –by a particular gene regulator called by this interferon response factor - IRF7," he said. "We then took those large data sets from our pre-clinical models and compared them with those of Dr Parker's European collaborators, who had followed cohorts of women with breast cancer to see how their long term survival correlated with various measurements. We found our "gene signature" indeed correlated with survival. .
"We found these signatures in breast cancer and then we found that if the signatures were lower or under-represented, then that correlated with their long-term survival which would be dictated by metastasis," Prof Hertzog said.
This type of approach of combining preclinical models, advanced genomics technology, bioinformatics and clinical studies will be the future of biomedical research, so-called translational research, to lead us into a new era of tailored medicine.
MIMR is a Melbourne-based medical research institute within Monash University.