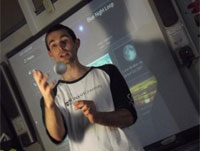 An increasing number of scientists and mathematicians at Monash University are inspiring kids all around Australia with their involvement in the Scientists in Schools program.
Scientists in Schools (SiS), which includes the sub-program Mathematicians in Schools (MiS), is a national program that creates and supports long-term partnerships between teachers and scientists or mathematicians.
More than 25 Monash academics, ranging from Heads of Departments to PhD students, have joined since the program started in 2007.
Monash Fellow Dr Daniel Price, from the School of Mathematical Sciences, lends his expertise to Overport Primary in Frankston South.
"Whenever possible, I help with the weekly science club, leading activities such as making plasma from grapes, measuring the speed of light with chocolate and modelling the phases of the moon," Dr Price said.
"SiS is a huge amount of fun. I get to experiment with things that I would not normally do in my daily work and inspire students' fantastic curiosity."
Research Fellows Dr David Turner, from the School of Chemistry and Dr Sanjaya Kuruppu, from the Department of Biochemistry and Molecular Biology both utilise their SiS partnerships to host students in their labs.
Dr Turner works in partnership with Penleigh and Essendon Grammar School (PEGS) and attends the annual PEGS presentation evening where the students present their results from the labs.
"I get one or two students in the lab and involve them in current research projects related to materials chemistry and crystallography," Dr Turner said.
In 2011, Dr Kuruppu hosted two senior students from Cranbourne Secondary College in his lab.
"The students have the opportunity to see some of the techniques we use and get an idea of what is involved in being a scientist," Dr Kuruppu said.
The SiS and MiS programs are flexible to allow academics to derive their own partnership and decide how much time they will devote to it. For more information, or to become involved, visit the Scientists in Schools website.
This project was funded under the Quality Outcomes Program administered by the Australian Government Department of Education, Employment and Workplace Relations and CSIRO.