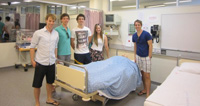 A new program to connect rural medical students with local health practitioners could help overcome doctor shortages in regional areas in the future.
Third-year medicine student, Will Goss, based at Monash University's School of Rural Health in Bendigo, established the Local Rural Medical Student (LRMS) project, an initiative which aims to connect rural medical students with local health services in the hope they return to practice in the area after completing their degree.
The program, endorsed by Monash University, is in its early stages and has commenced in the Gippsland region where students from Sale have undertaken placements at Gippsland Paediatrics, a multidisciplinary specialist Paediatric clinic.
Originally from Sale himself, Mr Goss said there is a need for communities to encourage locally trained professionals back to their local area.
"Until now, there was no formal support in the facilitation of relationships between rural medical students and their hometown health service providers," he said. 
"The LRMS program was developed to attract students back to their local area where there is a great need for culturally aware and locally trained health professionals.
"The program gives students access to a range of resources, including local medical libraries, postgraduate educational activities and clinical placements, during their time at the University."
Director of the Bendigo Regional Clinical School, Professor Geoff Solarsh said the University has embraced the project.
"Although the project is in its initial stages of planning, over the next 12 months we hope to fully incorporate all local students and successfully get the project running," Professor Solarsh said.
"We hope that offering medical students a broad range of experiences in regional areas, in a program unique to Monash University, will encourage them to return when qualified."

It is hoped that the program, which also encourages local secondary students to pursue a career in medicine, will expand into other regional areas across Australia to improve the rural Australian health network.