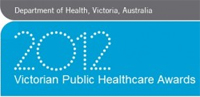 28 November 2012
A Monash University initiative has been given top honours at the 2012 Victorian Public Healthcare Awards, receiving the gold prize for 'Optimising the Health Status of Victorians'.

The Monash University Healthy Lifestyle Program (HeLP-her program), designed to encourage women to follow a healthy lifestyle in order to promote health and wellness and to prevent excess weight gain, took out the award last week.

The Victorian Public Healthcare awards are held annually to recognise excellence and innovation in public health, health services, and service initiatives that deliver innovative, informed and effective healthcare.

Monash University staff members involved in HeLP-her include Professor Helena Teede, Dr Cate Lombard, Dr Cheryce Harrison, Linda Downs, Nicole Ng, Samantha Kozica and Stella Chaviaris.

Head of HeLP-her, Dr Cate Lombard, said the team was honoured to have received this award.

"Awards such as this are very important in boosting awareness of health programs and increasing participation but also in recognising the people who work so hard in delivering programs," Dr Lombard said.

HeLP-her is an evidenced based program that targets weight gain prevention and continues to be translated into a range of new settings and target groups. It is now being implemented by the Government throughout Victoria.

HeLP-her rural, for women living in rural communities, is one of the largest women's health research projects to date in Australia.This research project will recruit around 900 women from 42 small towns across Victoria.

Over the evolution of the program, collaborating organisations include Southern Health, Jean Hailes and funding bodies include the NHMRC, Monash University, Victorian State Government, International Diabetes Federation, VicHealth, Buckland Foundation and the Helen McPherson Smith Trust.

For her work with the HeLP-her program, Dr Lombard was also one of five national finalists in the 2012 Emerging Researcher of the Year award, a BUPA/Research Australia award.