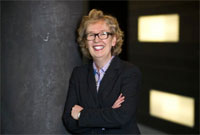 Monash University's research into the growing challenges to global health through diabetes, cancer and cardiovascular disease has been recognised with co-presidency of the 2011 World Health Summit.
The annual World Health Summit, held in Berlin, Germany is one of the world's foremost gatherings of public health leaders from academia, politics, industry and government. This year's event is being held under the theme of "Today's Science – Tomorrow's Agenda."
Dean of the Faculty of Medicine, Nursing and Health Sciences, Professor Christina Mitchell is leading Monash's co-presidency of the conference alongside a substantial Monash team.
"Monash is greatly honoured to act as co-president of a meeting of this stature. The calibre of presenters and panellists across the Summit symposia is representative of some of the most influential thought leadership in health," Professor Mitchell said.
The summit began on Saturday with an opening ceremony presided over by Professor Mitchell. A message of goodwill from Prime Minister Julia Gillard was delivered by Mr Peter Tesch, Australia's Ambassador to Germany, reinforcing Australia's commitment to developing global health indicators and targets.
Throughout the summit, Monash University will be hosting symposia covering a range of topics, from the future of medical education in a globalised world to building a safer physical and social environment.
Deputy Director of Monash University's Women's Health Group, Associate Professor Robin Bell will be the chairperson for the symposium 'A Healthy Start to Life', discussing the high rates of child mortality and morbidity through preventable diseases.
The World Health Summit is hosted by Charité Universitätsmedizin Berlin together with the M8 Alliance of Academic Health Centre and Medical Universities.
Monash's co-presidency year is highlighted by the fact that the prestigious M8 group includes Monash University as the only Australian member.