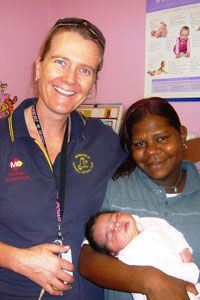 Monash graduate Vanessa Page has won a major midwifery award for her dedication to caring for pregnant women in the remote Kimberley, WA.
Vanessa was the sole community midwife in Fitzroy Crossing for two years, caring for up to 50 pregnant Indigenous women at a time, many with significant health issues and complex social problems.
Working autonomously, she cared for women throughout their pregnancies, allowing her to build trusting relationships and have a positive impact on maternal and neonatal outcomes.
Many of the women were 'high risk' with pregnancies complicated by health problems such as gestational diabetes, anaemia, pre-existing chronic disease, sexually transmitted infections and obesity.
With minimal resources, Vanessa also found herself addressing many social issues that were affecting the women she was caring for, such as domestic violence, teenage pregnancies and substance abuse.
"It can be really overwhelming at times, but also immensely rewarding," Vanessa explained. "Sometimes the pregnancy can be a great opportunity to address other issues or have other health problems diagnosed."
She was recognised for her passion and contribution to women's health when she was named 2011 Remote and Rural Midwife of the Year at the recent Western Australian Nursing and Midwifery Awards in Perth, a red carpet event.
Vanessa completed a Graduate Diploma of Midwifery at Monash University's School of Nursing and Midwifery Gippsland campus after a number of years experience as a remote area nurse.
Typical of a remote health practitioner, Vanessa has worked autonomously on many occasions and has dealt with all sorts of accidents and health emergencies. "Nothing I saw really freaked me out," she said, "except for obstetrics."
After moving back to Victoria for a while she took the opportunity to complete the diploma and qualify as a registered midwife before returning to remote work in Fitzroy Crossing.
She said it took about six to 12 months to earn the respect and trust of the locals, partly by adapting to a "different cultural approach".
The appointment system doesn't operate effectively in a culture with a different concept of time, so she had to be flexible and make herself available whenever a woman showed up.  She often had to drive to pick up a client who lived far away or lacked transport, and on other occasions had to convince women she'd "heard could be pregnant" or were concealing their pregnancies to come and see her.  
Vanessa said on some occasions women would present for just one or two visits from communities up to 600 kilometres away, making it difficult to compile their antenatal record, or put together necessary referrals and health plans.
Despite the challenges, working in remote and Indigenous health was very rewarding. "In this community I am not anonymous, I am Vanessa the Midwife," she said. "And when a woman feels safe enough to return for follow-up, that beats a box of chocolates any day."
She believes the health system needs to encourage traditional midwives and Aboriginal health workers to be more involved in the care of Indigenous women during pregnancy and birth. She would also like to see a boost in resources so that women living in remote communities did not have to travel up to 1000 kilometers to give birth.
"I'd love to see women with low-risk pregnancies birthing in their own communities, but we need better resources for this."
She is currently working in the maternity unit at Derby Hospital - also in the Kimberley - and travels every second week to Fitzroy Crossing to provide women's health care, and also to maintain her connections with the community.
She is studying to become a nurse practitioner, and with eligible midwife registration, Vanessa hopes to establish a position in Derby to provide another option for women's and maternal health care.