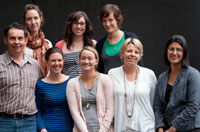 The first cohort of students in the new Master of Social Work (Qualifying) will complete their course at the end of this semester. The newly established course is providing graduates with exciting career opportunities in welfare and community work in Australia and overseas.
The first 25 students to graduate come from a wide range of professional backgrounds.   After 28 years as a chiropractor in private practice, Rod McLean wanted a change of context.  "The Master of Social Work will give me the opportunity to work with groups of people and in multidisciplinary areas," said Mr McLean.
With a background in IT and education, Zaina Nehme currently teaches Vocational Education and Training courses to secondary students.  "I wanted extra knowledge and skills to be able to cater for the needs of adolescents in the classroom," Ms Nehme said. "What I have learned in this course makes me a better teacher and helps me provide extra support to my students in and out of the classroom."
Other students in the group have discovered new career opportunities as a result of the compulsory work placements they have undertaken in the Masters course.  Michelle Rowley, a student from the US, has an undergraduate degree in sociology and always wanted to become a Social Worker.  However, it was her recent work placement in a hospital setting that exposed her to the possibilities of medical social work.  "I love the multidisciplinary approach of working with doctors, speech therapists and other health professionals," said Ms Rowley. "Bridging the gaps that patients and families experience has been very rewarding and I would like to do clinical social work in the future." 
Some graduates in the first cohort will be taking advantage of overseas opportunities and plan to work for NGOs and community organisations in other countries.  Kari Pilcher will work in a Trauma Recovery Agency in Cambodia while Esther Grimes, who already has work experience in India raising awareness of HIV, will travel to Papua New Guinea to help build social work capacity at the University of PNG as a graduate volunteer.
The newly established Master of Social Work (Qualifying) is approved and accredited by the Australian Association of Social Workers (AASW) and graduates are eligible to practice as social workers in Australia and many overseas countries.  Dr Robyn Mason and Dr Bernadette Saunders are Course Coordinators and senior lecturers on the Master of Social Work.  They believe the course is attractive and meets the needs of graduate students through flexible delivery options: full time, part time, on campus and off campus.  
Using our ideas to change communities for the better is one of Monash University's core values. Through their future work in welfare and community work, graduates of the Master of Social Work will be making a real difference.