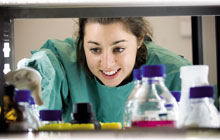 A medical researcher whose investigation into the cause of heart failure has received internationalacclaim,, today received a commendation in the 2011 Premier's Award for Health and Medical Research.
Dr Amanda Rickard received $8,000 and a certificate for her work from the Premier of Victoria at Government House.
Dr Rickard, currently at The National Institute for Health and Medical Research (INSERM) Paris Cardiovascular Research Centre, has been focusing her attention on the role of the steroid hormone receptor, mineralocorticoid receptor (MR), in both heart failure and high blood pressure.
The research has attracted worldwide attention because of the high burden of heart disease on almost every country's economy.
Heart disease is the leading cause of death in Australia, killing one Australian nearly every ten minutes. Heart failure affects around 300,000 Australians with 30,000 new cases diagnosed each year. About eight per cent of all prescriptions in general practice are to treat high blood pressure.
According to Dr Rickard, recent large scale clinical trials have shown that people with heart failure show marked improvement in their health after taking medication that blocks the MR together with their standard medication.
Her studies showed that by removing the MR from inflammatory cells or cardiac muscle cells, protects the heart from inflammation, fibrosis and hypertension caused by high levels of the steroid hormone aldosterone and salt.
She also found that when the MR is removed from blood vessel cells, inflammatory cells are not able to invade the heart tissue and cause disease.
These discoveries have received international attention because they more clearly define the role of MR in different cells, and show potential for new high blood pressure and heart disease treatments.
Her work has been published in Hypertension and Endocrinology, both top discipline-specific journals.
Dr Rickard will be furthering her research in France after winning a prestigious National Health and Medical Research Council Overseas Biomedical Training Fellowship to work at the INSERM Paris Cardiovascular Research Centre.
Dr Rickard undertook her PhD at Prince Henry's Institute and the Department of Physiology, Monash University.
The Premier's Award for Health and Medical Research is an initiative of the Victorian Government and the Australian Society for Medical Research and is prese