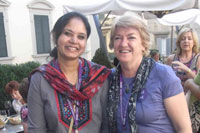 Women adversely impacted by climate change was the focus for researchers, activists and policy makers from 24 countries gathered at a ground-breaking conference at Monash's centre at Prato in Italy.

Hosted by Professor Margaret Alston, head of the Gender, Leadership and Social Sustainability (GLASS) research unit at Monash University, the 12-14 September conference included delegates funded by AusAid and the US Department of State. African countries, Pacific Islands, the Americas, the EU and Australia were represented, including Mr Justin Sosne from the US Department of State and recently retired Liberal Senator for Victoria and Chair of the GLASS research unit advisory board, Ms Judith Troeth.

The conference was addressed by the US Ambassador-at-Large for Global Women's Issues, Melanne Verveer, on the gendered impacts of climate change.

"We want to ensure that gender issues are addressed in ongoing climate change negotiations at international and national levels", said Professor Alston. "We call on countries across the world to ensure that women do not bear a disproportionate burden of climate change events."

Delegates challenged the market-based arguments that dominate discussions of climate change arguing it is a 'race to the bottom'. They urged legally binding agreements that would address the quality of life of those most critically impacted – overwhelmingly the poor countries of the developing world and vulnerable groups within countries. Calls for a new appraisal of the way the environment and communities intersect were a conference outcome, ensuring that solutions do not impact unfairly on the most vulnerable.

"We need a new climate change analysis model that does not exploit people and the environment to the benefit of a few, a model that meets people's needs without literally costing us the earth," Professor Alston added.

The research, action and policy recommendations developed at the conference will be taken to 17th United Nations Framework Convention on Climate Change (COP 17) Commission for the Status of Women meeting and the Earth Summit + meeting in 2012.