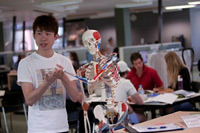 Leading occupational therapists from across the Asia Pacific have gathered in Thailand to exchange ideas about the development of their field.
Occurring every four years since 1995, the Asia Pacific Occupational Therapy Congress (APOTC 2011), is a regional congress of the World Federation of Occupational Therapists. This year's congress, held in Chiang Mai, Thailand, gave experts the chance to present and share ideas on how occupational therapy techniques and practices can be adapted to a wide variety of cultural contexts.
With more than 800 delegates in attendance, including a number of members from the Monash University Department of Occupational Therapy (MUDOT), the event provided an opportunity to network with fellow occupational therapists and to learn about current practice in the region.
The Monash attendees were, Head of MUDOT, Associate Louise Farnworth,  Dr Mong-Lin Yu, Lisa Knightbridge and Associate Professor Ted Brown.
Associate Professor Brown said all four Monash academics made a significant contribution to the program, presenting papers and facilitating sessions.
"The congress was a resounding success. MUDOT staff made a meaningful contribution to the APOTC 2011 and I have no doubt that this will be replicated at the 2015 event to be held in New Zealand," Associate Professor Brown said.