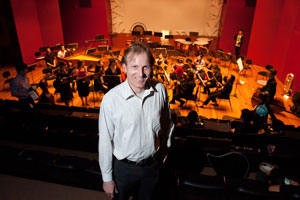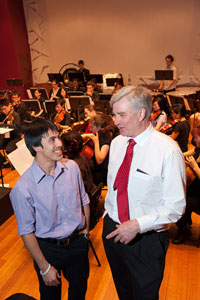 When he was 5 years old, Tim Martin started playing the piano. Later in primary school he took up the clarinet, just for fun, and enjoyed playing music in his school band. Now a third year MBBS student, Tim is the founding member of the Monash Medical Orchestra (MMO), who performed their inaugural concert on 14 October in the Music Auditorium at Monash University.   
Like many students, Tim practised music throughout his secondary education in order to maintain a balance with his studies.  Practising music helped him manage his stressful study regime.  At university, Tim and many of his musically-minded friends were disappointed that medical students who enjoyed playing music in high school no longer had time to play their instruments.
Tim wants medical students to have an opportunity to continue playing music amid a hectic lifestyle. That's why he founded the Monash Medical Orchestra in order to provide an avenue for medical students to practise and perform.   "Medical school can sometimes be overwhelming. The orchestra lets us forget about the stresses of exams and assignments and just be immersed in music," Tim said.
The Monash Medical Orchestra comprises 50 medical students and a small number of Monash music students. At their inaugural performance they were conducted by Robert Dora, a Monash University Honours music student, and their recent concert included pieces by Strauss, Bach and Elgar.  The MMO was also joined by the Med Choir and an ensemble of first year medical students undertaking a music selective.  There are plans for several concerts next year as well as the formation of a medical concert band, jazz band and other ensembles.
A number of MMO orchestra members have previously performed with the Australian Doctor's Orchestra and Corpus Medicorum (Victorian Doctor's Orchestra), a demonstration of the strong connection between medicine and music.
MMO members are enjoying the opportunity to play music again and have found the orchestra brings other benefits.  "Rehearsing and performing as a group is fun and helps us relax.  It also provides an opportunity to develop friendships with other students from different year levels and different countries, an important component to working in any hospital," added Tim. "We have many international students in the orchestra which has created bonds and friendships across different cultures."  
Organised by a committee of volunteer MBBS students from all year levels, the MMO is officially supported by the Monash University Medical Undergraduates' Society (MUMUS) and the Faculty of Medicine, Nursing and Health Science.  Associate Professor Chris Wright, Academic Coordinator, Years III - V MBBS,  provided assistance and support to Tim in the early stages of establishing the orchestra.  Professor Wright knows that successful students need to lead a balanced life and undertake activities that help reduce stress levels. "We know that people who are well-rounded do better," said Professor Wright. "Some students are very focussed and worry that if they get involved in other activities their grades will suffer. Part of our role is to say it's alright.  All students need to be encouraged to explore what the university offers."
Dr Peter Tregear, Executive Director, Monash Academy of Performing Arts also gave invaluable support and advice to the MMO.  He believes there are many skills and experiences that help enrich the experience of undergraduate education outside the lecture hall.  "It's a very impoverished view of university education that sees it restricted to its disciplinary training," Dr Tregear said. "It's clearly important for a medical student that they're able to engage with the world in ways beyond just the technical and scientific mindset. Participation in an activity such as the orchestra develops creative thinking and leadership skills, as well as team work and socialising skills."
The Monash Medical Orchestra not only showcases the hidden talent of many MBBS students, but more importantly, provides yet another opportunity for students to become involved in student life and activities at Monash.  Professor Wright wants to ensure that "when students think about studying at Monash, they will have a breadth of opportunities and not just graduate with a piece of paper.  The orchestra is one way we can provide that broadening of the university experience."