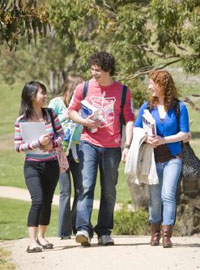 From Warragul to Wonthaggi, Moe to Mallacoota, and every town in between, communities in Gippsland are soon to benefit from a growing number of doctors working in the region, with the inaugural graduation of medical students from Monash University's Gippsland Medical School.
The students, who began their studies in 2008, will graduate as the first ever cohort from Monash University's Gippsland Medical School, a purpose-built facility designed to specifically address the shortage of doctors and health professionals in Gippsland and other regional areas of Australia.
Director of the Gippsland Medical School, Associate Professor William Hart, said the graduation was a proud occasion not only for the students themselves, but Monash University and local communities throughout Gippsland.
"The Gippsland Medical School was established to allow Monash to respond to the shortage of doctors in the region, and help develop a medical workforce that understands the specific needs of communities outside of metropolitan areas," said Associate Professor Hart.
Throughout their training, students from the Gippsland Medical School have been welcomed into hospitals, doctors' offices and health agencies of almost every town in Gippsland, providing them with an unparalleled perspective of life as a GP in country Australia.
"Over time, we believe these home-grown doctors will make a great contribution to the medical workforce needs of our region by not only allowing local students to study locally, but by also attracting students and staff – from across Australia and around the world – to Gippsland itself," said Associate Professor Hart.
Among the 45 students completing their studies, seven are from overseas, eight are from interstate and 10 have either lived or worked in Gippsland prior to becoming medical students. A considerable number expect to remain in Gippsland, or seek work in other regional areas, after graduating.
Before being accepted into the Gippsland Medical School, students are required to have successfully completed an undergraduate degree, with this year's graduates coming from a diverse range of backgrounds, including engineering, nursing, physiotherapy, journalism, arts, and social sciences.
"The result is a graduating class of well-rounded professionals that have the insight and experience to make an exceptional contribution to the communities in which they will work," said Associate Professor Hart.