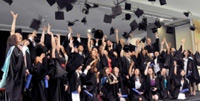 Monash University's commitment to increasing the number of doctors in country Australia has been further strengthened with the inaugural graduation of 45 medical students from the Gippsland Medical School.
The School is a purpose-built facility designed to specifically address the shortage of doctors and health professionals in regional areas.
Professor Judi Walker, Head of Monash University's School of Rural Health, said last week's  graduation marked an important milestone for the University's profile as a leading provider of regionally-focused medical education.
"The Gippsland Medical School has allowed us to extend our education and research footprint even further, and enhance our medical curriculum with an understanding of the specific needs of communities outside of big cities," Professor Walker said.
"The result is a medical school that brings together local and global knowledge to produce graduates with the insight required to meet the challenge of working in regional areas, and make an exceptional contribution to any community they work in, at home or abroad." 
Since being opened just four years ago, the Gippsland Medical School has quickly become one of the country's leading graduate medical schools, and attracts students from across Australia and around the world. A total enrolment of almost 350 students is expected in 2012.