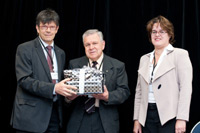 For the past 33 years the Faculty of Medicine, Nursing and Health Sciences has offered an Annual Update course for general practitioners. In recognition of John Murtagh's extraordinary contribution this course has been renamed in his honour.
While John officially retired in 2010, he has continued to work tirelessly for the benefit of the Department of General Practice, the School of Primary Health Care and Monash University. This was very much in evidence in the organisation and delivery of the Annual Update course program.
Over 125 participants at this year's Update were treated to a range of clinical topics that addressed common clinical problems faced by the busy GP. In an era of electronic clinical education offerings, the John Murtagh Annual Update course continues to be a mainstay in the educational calendar of GPs from across Australia and overseas.
More information on the John Murtagh Annual Update course, as well as recent achievements and research projects can be found in the Department of General Practice's Annual Report.