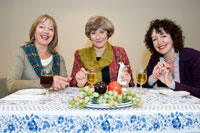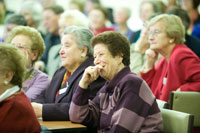 Community Theatre as a tool to communicate research findings is a unique form of knowledge transfer.  Using theatre performance to engage and inform older people about key life events is the topic of Associate Professor Susan Feldman's latest research, published in the prestigious journal, Educational Gerontology.  This important research publication supports the Healthy Ageing Research Unit's mission to improve the quality of life of older people through the development of evidence based services.
Associate Professor Feldman, Director of the Healthy Ageing Research Unit, School of Primary Health Care, used quantitative and qualitative data to identify the acceptability and potential benefits of the medium of research-based community theatre on the psychosocial health and wellbeing of older people.  "Theatre is a tool that has been used for centuries to inform and educate, however, the concept of translating the findings of rigorous research into a play is a unique form of knowledge transfer," Professor Feldman said. "Theatre offers an alternative strategy for educating and informing the community about research findings."
Many older people have low functional health literacy and government health organisations and agencies face difficulties disseminating health information. "Research-based community theatre can engage audiences and convey research findings and key psychosocial health and wellbeing messages in an entertaining, safe, and supportive environment," added Associate Professor Feldman.
Associate Professor Feldman received wide publicity in 2006 when her PhD thesis on widowhood became the basis of a play, Wicked Widows. In the last five years, the play, written by well known playwright Alan Hopgood, has been staged in more than 40 locations across Victoria and has been attended by over 6000 people.   Wicked Widows uses humour to address the issues of widowed women struggling with their new identity. "The objective of the play is to counter negative stereotypes about older widowed women and the themes include health, financial, emotional and social wellbeing concerns," said Professor Feldman.
Associate Professor Feldman and the playwright, Alan Hopgood conduct forums with audience members after every performance of the play and the information collected formed the basis of the latest research findings.  "While some attendees find the issues in the play confronting, the reactions are overwhelmingly positive as audience members find comfort in having their emotions affirmed," added Associate Professor Feldman.  "Others who have seen the play report they have more empathy with and understanding of the experience of widowhood."  
Associate Professor Feldman sees the potential for research-based community theatre to be used as a knowledge transfer tool in other languages in Australia and across wider audiences.  While it may just be a comedy performance for some, it is certainly making a direct impact on the wellbeing of our ageing community.