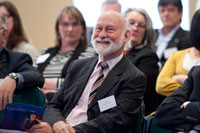 Intellectual Disability, Mental Health, Autism Spectrum Disorders and Internalising Disorders were some of the topics covered at a full day seminar celebrating the career and contributions of Professor Bruce Tonge.
An early graduate in 1970 of the Monash University Medical School and the Prince Henry's Hospital and Queen Victoria Memorial Hospital Clinical Schools, Professor Bruce Tonge is a leading academic Child and Adolescent Psychiatrist.  With a distinguished record of teaching and research in child psychiatry, he established and held the position of Head of the Centre for Development Psychiatry and Psychology at Monash Medical Centre.
Speakers at the September seminar included renowned international and Australian academics and researchers.  Patricia Howlin, Professor of Clinical Child Psychology at the Institute of Psychiatry, London, spoke about the future for adults with autism.   'The Australian Child to Adult Development Study', including the Developmental Behaviour Checklist, was the topic of Professor Stewart Einfeld's session.   Professor Einfeld is the Chair of Mental Health, Faculty of Health Science at the University of Sydney, and a Senior Scientist at the Brain and Mind Research Institute.  Other speakers included Professor Gillian Turner and Associate Professor Nicole Rinehart.
The more than 100 attendees included academics, researchers and health professionals from Australian and international universities, hospitals, research institutes and other health providers.
Professor Tonge is the co-author of the Developmental Behaviour Checklist, an instrument which assesses behavioural and emotional problems in children and adolescents with intellectual disability. This instrument is widely used in clinical and research settings in Australia and internationally.