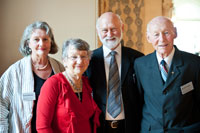 Monash's distinguished Professor of Psychiatry and international autism expert Bruce Tonge was recently honoured by Monash University's Medical Foundation with the David de Kretser Medal. His colleague for the day, Australian of the Year Professor Ian Frazer AO, received the Lifetime Achievement Award for his work on the HPV vaccine to prevent cervical cancer.

The awards ceremony, which was held at historic Government House in Melbourne, counted international health professionals attending the M8 summit amongst many distinguished guests. There to celebrate and acknowledge both men's significant achievements were Monash donors, alumni, colleagues, friends and family of the award recipients.

Professor Tonge, who at retirement age was lucky enough to count both parents as attendees as well as his infant grandson, celebrated his family as crucial to his successes in a moving speech. Professor Ian Frazer also credited his family as the impetus and inspiration behind his groundbreaking research.
Some of Professor Tonge's many and varied career highlights include the 'draw a dream' technique, now used by child psychiatrists and psychologists around the world, the discovery of an autistic mouse and a just-announced National Health and Medical Research Council funding endowment worth five-and-a-half million dollars. For Professor Tonge and his colleagues this will fund the roll-out of a parenting skills program in the Eastern states of Australia for the families of children with developmental disabilities, including autism.

"These awards celebrate the finest achievements in biomedical science, clinical practice and public health. This year's recipients have created innovations in healthcare that help millions of people to enjoy greater wellbeing," said Professor Steve Wesselingh, Dean of the Faculty of Medicine, Nursing and Health Sciences.

"The cervical cancer vaccine created by Professor Ian Frazer has now been used to inoculate 60 million people worldwide against what is the second greatest cause of cancer mortality in women. Professor Bruce Tonge is an international authority in the field of child psychiatry, and particularly autism. His research projects and clinical experience combine to constantly offer new insights into developmental disorders and youth mental illness, and to support children and their families to lead the most happy, healthy lives possible."

The 2009 respective recipients of the David de Kretser Medal and the Lifetime Achievement Award were Professor Napier (Nip) Thomson AM and Professor Joe Sambrook. Previous David de Kretser Medalists include Professor John Murtagh AM, Professor Mollie Holman, the chief executive of Australia's NHMRC Professor Warwick Anderson and IVF pioneer Professor Alan Trounson.