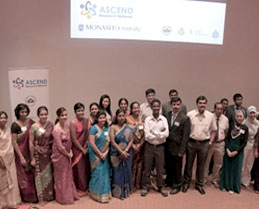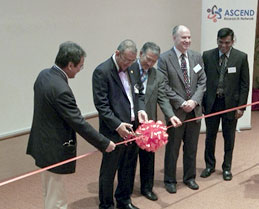 The ASCEND (Asian Collaboration for Excellence in Non-Communicable Disease) Research Network was launched at Monash University Sunway Campus by Dr Lokman Hakim Solaiman, Deputy Director General of Health, Malaysia on Monday 13th June 2011.
Led by Professor Brian Oldenburg from the School of Public Health and Preventive Medicine, Monash University and along with its institutional partners in the US (University of North Carolina), Sri Lanka (University of Colombo), India (Sree Chitra Tirunal Institute for Medical Sciences & Technology) and Malaysia (Monash Sunway) have received a grant from the Fogarty International Centre for Health, National Institutes of Health to build a regional research network of researchers for non-communicable diseases over five years. On Monday 13th June the program was launched with the first cohort of 25 trainees from Sri Lanka, India, Malaysia and China coming to Monash University Sunway Campus to take part in an intensive 3-week teaching block
As part of the program launch there were video clips from Dr Roger Glass, the Director of the Fogarty Centre of International Health, Prof Steve Wesselingh, Dean of the Faculty of Medicine, Nursing and Health Sciences, Monash University, the technical officer for the WHO West Pacific Regional Office, Dr Cherian Varghese and Dr Garg from the South-East Asia Regional WHO Office.
The inaugural cohort of 25 trainees now commence their 18-month ASCEND journey. Following the three week teaching block, they will return to their own country to continue a 12 month long research project which will be mentored by global experts in the field of chronic non-communicable disease. The trainees will be further supported by online web-based learning activities and it is expected that most will go on to undertake postgraduate research training.