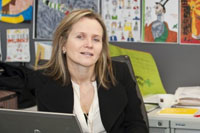 The biennial International AIDS conference aims to promote an evidence-based policy response to the HIV/AIDS epidemic by bringing together science, community and government representatives.
While working towards a cure for HIV, Professor Lewin also oversees the largest HIV clinical service in Australia.
"I am truly honoured to be asked to co-chair such an important meeting," Professor Lewin said.
"The International AIDS Conference has a track record of being able to mobilise resources to really make a difference for people living with HIV. The conference has done this by not only creating a forum to share scientific ideas but also by effectively advocating for very significant changes in HIV-related policies in all parts of the world."
Professor Lewin said the Australian health policy response to HIV had been characterised by its grassroots nature, with a high degree of partnership between scientists, government and community and a lack of top-down direction.
The Joint United Nations Programme on HIV/AIDS reported that at the end of 2010, 34 million people were living with HIV.