Download the Winter Newsletter 2010 (pdf)
Download the Autumn newsletter 2010 (pdf)
Five of The Gippsland Medical School's Year A students have been awarded John Flynn Scholarships. The John Flynn Scholarship Scheme was established in 1997 and is an integral part of the Australian government's long-term strategy to attract more rural doctors and improve the quality of health care in rural areas. Working closely with a rural doctor mentor and the host community, medical students develop a better understanding of the challenges and rewards associated with rural medical practice and non-metropolitan health care services. Congratulations to Justin de Bono, Michelle Dunn, Brendan Maher, Astrid Richards and Laura Selkrig.
| | | | | |
| --- | --- | --- | --- | --- |
| | | | | |
| Brendan Maher | Astrid Richards | Joshua de Bono | Michelle Dunn | Laura Selkrig |
On Thursday, 9th July, 2009, Certificates of Appreciation were awarded to sixty-one residents from Latrobe Valley Homes and Grace Bruce Homes for their involvement in the education of the students of the Gippsland Medical School. Management from the two homes accepted wall plaques from Monash University to acknowledge their supporting role in the Volunteer Interview Program.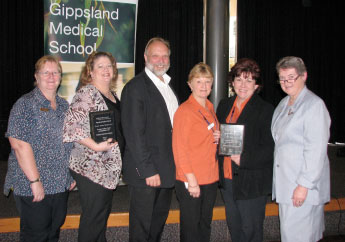 During the past six months, seventy-six first year medical students improved their communication skills by interviewing volunteers from the homes. The task was to interview an independently living older person, not to gain a medical history but to gain a deep understanding of this person through a life narrative.
Students benefitted by stepping outside the medical model of history taking and examination and learning how to relate to an older person and were enriched through this contact with living history. Many of the residents said that they had never expected to have an experience like this in their lives. They felt honoured to be asked to help in the development of the next generation of doctors.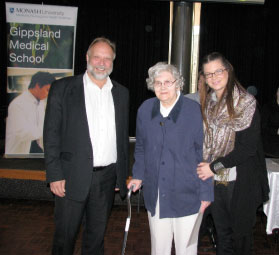 Associate Professor George Somers thanked the volunteers, the staff and his own team for making the VIP such a success. He said that Monash University, particularly in Gippsland, was well-known for its community engagement, and that programs like this would deepen its ties with the community. He acknowledged the hard work of the program coordinator, Dr Sonia Allen. He had returned earlier that week from the Third International Clinical Skills Conference in Italy, where he successfully presented the program. During the following year, the program will be expanded. It would increase its focus on the social determinants of health, so that students would better understand the effect of day-to-day life on one's wellbeing and longevity. With the predicted increase in life-span up to 130 years by 2050, these young medical students are likely to see a great many older persons throughout their careers.
GIPSIE programme for international medical graduates
Dr Alistair Wright and Prof Debra Nestel have developed a programme in clinical excellence to support international medical graduates working in Gippsland. Gippsland Inspiring Professional Standards for International Experts (GIPSIE) is funded by the Department of Human Services (Victoria), is supported by academics and clinicians from Gippsland and is based at Gippsland Medical School. The aim of the programme is to support local IMGs in attaining the highest standards of professional medical practice. Content focuses on commonly occurring clinical events together with the development of self-awareness. The next GIPSIE programme commences with a weekend workshop in June followed by four fortnightly meetings. Between sessions participants access the GISPIE website (www.gipsie.org.au/) designed to support flexible learning.
Opportunities are provided to learn in simulation addressing patient assessment, prescribing, procedural, management of acutely ill patients and a range of critical professional skills such as telephone communication and handover. Although educational methods that are known to have maximum impact and promote continuous learning for professional practice have been implemented alternative approaches are being explored and evaluated. Preliminary evaluation results suggest GIPSIE is highly supportive of the development of professional skills in participants.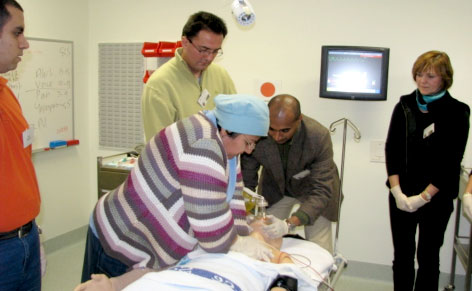 The Gippsland Medical School hosted two visiting students
Our names are Irum and Priyanga and we are third year medical students from the UK. We were given a great opportunity by Gippsland Medical School to carry out a 6 week research project entitled GIPSIE under the supervision of Professor Debra Nestel during our summer holidays.
Our trip as a whole, has been a fantastic experience which would not have been made possible without the support and guidance of everyone at Monash University from staff to students.
Our 6 week research project gave us a chance to learn and demonstrate new research skills, alongside dedicated staff professionals who gave up their own personal time and effort to teach and encourage us to reach our goals.
During our time here, we implemented a Teddy Bear Hospital Scheme at Monash University, a project that we were both heavily involved in back home. The idea was well received by both staff and students alike and we have high hopes for the Pilot that will be run in October this year.
Being able to live on campus with other medical students has made our time here incredibly memorable. The friendships and memories that we have created here over the last few weeks are ones that we hope to take home with us and we look forward to another opportunity to return!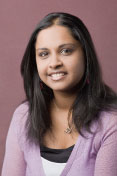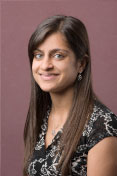 ---
Overview of Rating Scales: PAS and Cornell. Dr Ian Presnell
May 2009 update from Professor Chris Browne, Head
May 2010 update from Professor Chris Browne, Head
Overview of Rating Scales: PAS and Cornell. Dr Ian Presnell
Presented to registered nurses and associate colleagues supporting the Volunteer Interview Program, Gippsland Medical School (GMS), Monash University, Churchill.

On Thursday 7th May 2009, Dr Ian Presnell, psycho-geriatrician and senior lecturer into the Monash Medical Course, led a 90 minute presentation on the Psychogeriatric Assessment Scale (PAS) and the Cornell Depression/Dementia rating scales to an audience of 27 registered nurses and associate colleagues and 8 medical students. These individuals came from as far away as Korumburra to attend this interactive education session.

The GMS medical students were Year A students participating in the Volunteer Interview Program (VIP). The VIP was introduced in Year A of the GMS curriculum to increase the students' exposure to communication skills involving older persons. Each student spends one or two days in the program, under the guidance of Dr Sonia Allen and her colleagues at the village. The student's task during the morning session is to use basic communication skills to elicit a (non-medical) lifetime narrative from an independently living older person, residing in the retirement village. This life-story is reported back to the group during a reflective session in the afternoon.

The carers of the retirement villages had requested additional training in the assessment tools used to rate depression and dementia in the elderly. These are essential for the on-going funding of Residential Aged care Facilities. Attendees expressed gratitude to Monash University for providing and facilitating this educational session. There was broad agreement that the content of the education was extremely valuable in interpretation, applying and understanding the tools. Another session is planned for later in the year on issues surrounding end-of-life and palliative care.

Associate Professor George Somers
Clinical Skills Coordinator, Theme IV

May 2010 Update from Chris Browne
The GMS welcomed 78 students to the 2010 Year A orientation activities on 27-29th January. This third cohort of medical students for Gippsland is drawn from across Australia and also includes 6 international students. GMS is particularly pleased that 4 indigenous Australian students are part of the Year A class for 2010.
This year sees the roll out of the Year C program across Gippsland including the recruitment of almost 20 new general practices which are spread across the region from the Mornington Peninsula to Heyfield.

Year C students are now well settled in to their different routines, and the notion of the six clusters of students, with up to 10 students placed at 4-5 practices in a sub-region clustered around the sub-regional health service seems to be working well.
A series of special lectures have been scheduled for our students. The Hon. Daniel Andrews MP, State Minister for Health spoke to the Year A students on Friday 26th February. The Minister gave a brief speech and took questions from the audience. On Friday 19th March Dr. Leanne Rowe, Deputy Chancellor, Monash University, delivered a lecture entitled "First do no harm: being a resilient doctor in the 21st century" and Professor Merrilyn Walton, a former Health Services Commissioner for New South Wales and in recent years the key person who has developed the National Framework for Patient Safety, gave a presentation to the staff of Gippsland Medical School on Tuesday 30th March, a lecture to the Year A student plus an open lecture on Wednesday 31st March entitled "What is patient safety?"
Construction is underway on the $1.8 million Peninsula Clinical School building. When completed, it will significantly boost the teaching and learning facilities at Frankston Hospital. Minister for Health The Hon Daniel Andrews MP joined staff, academics and community volunteers to celebrate the progress of this latest project between Peninsula Health and Monash University. Monash University Dean of the Faculty of Medicine, Nursing and Health Sciences, Professor Steve Wesselingh, spoke of the need for the development in light of the increase of student doctors, graduate nurses and practising interns needed for the region.
Gippsland Medical School in partnership with Frankston, Bairnsdale and Wonthaggi hospitals has been successful in securing additional DHS capital infrastructure funding of $581,000.00 to support medical student clinical placements. Allocations are as follows:
$151,000 to complete the project at Peninsula Health including fit-out and connectivity facilities;
$320,000 to increase space at Bairnsdale Hospital that will be used to co-locate nursing and medical education and provide interprofessional education opportunities; and
$110,000 to improve connectivity and provide teaching space at Wonthaggi Hospital.
A Rural Education Infrastructure Development application to DHS by the Rural Clinical School seeking funding of $1,512,000 for general practices in the East and South Gippsland regions to provide facilities and care for MBBS students (including Year C students from Gippsland Medical School) has been successful.
Gippsland Medical School together with getGP and health services in the Gippsland region have formed the "Gippsland Medical Workforce Partnership". The partnership is seeking funding for a position to undertake planning activities to assess current and predict future capabilities, capacities and needs of health services and medical graduates within Gippsland with regard to the ongoing recruitment, retention and clinical and training
Staff Matters
We have welcomed several new staff members at GMS in 2010; these include Ms Michelle Machado who is a PBL tutor and an anatomy teacher, who has joined us from the UK; Ms Tracy Morrison who is working on a research project with Professor Debra Nestel; Dr Margaret Simmons who has taken over the teaching for Health, Knowledge and Society; Dr Adelle McArdle who is assisting Associate Professor Elmer Villanueva with Public Health teaching; and Ms Selenge Erdenechimeg who has joined the administrative staff team.
We also have Ms Natalie Ryan with us for May/June 2010 as the inaugural joint GMS-GDAD Artist in Residence. Natalie is in the third year of her PhD, in which she is researching aspects of the body and the cadaver in art.
Finally, the School hosted a visiting delegation of representatives from the 10 medical schools in South Africa during the first week in May. They were here as part of a study tour to learn more about rural medical education in Australia, with a view to transporting some of the lessons back to South Africa.



May 2009 update from Professor Chris Browne, Head

We are now well into the second year of our full operation with about 57 Year B students and 74 Year A students. The new facilities that we created on the Gippsland campus at Churchill have been tried and tested and we are fine tuning their operation to get the best use out of them.
Our Year A and Year B students have just enjoyed the first GMS "Back to Base" days, where the two groups were able to work together and share and compare experiences.
History of Medicine
On December 5th 2008 banners depicting 19th and 20th century medicine throughout the Gippsland area were launched. Dr. Ann Dettrick, a local historian and an Honorary Research Fellow at GMS, had spent four months visiting local historical societies, bush nursing hospitals, remote nursing areas and hospital libraries to gather the pictorial history of medicine in the Gippsland area. The launch was attended by local historians and descendants of people on the banners.
Summer Scholars Presentation Day
During the summer break four Year A scholars took up Summer Studentships to work on special projects with Professor Debra Nestel and Associate Professor Elmer Villanueva. The students worked hard to complete these projects and each gave short presentations on 21st January on their projects.
Orientation Week
The week of 27th January was Orientation Week for the incoming students of Gippsland Medical School. Professor Helen Bartlett (PVC Gippsland Campus) and Professor Chris Browne welcomed the students to the Medical School and to the Gippsland Campus. On Friday 30th students and staff were treated to a piano recital by A/Professor Brian Chapman and were then introduced to Professor Steve Wesselingh, Dean Faculty of Medicine and Professor Ben Canny, Associate Dean MBBS Curriculum.
Dealing with Trauma
Associate Professor George Somers, who has extensive and direct experience in seeing the effects of traumatic experiences in places such as Aceh in Indonesia and the Victorian Ash Wednesday bushfires, spoke at the recent free public seminar entitled "Dealing with Trauma" on 16th February at the Gippsland campus. Associate Professor Brian Chapman also contributed to this event by performing "Moonlight" by Ludwig van Beethoven and "Impromptu: by Franz Schubert on the piano.
Gippsland Medical School Inaugural Medical Education Symposium
The Symposium was held on 20th and 21st March. This two day event was organised by A/Professor Robyn Hill and was well attended by community members, health professionals and health educators. The focus of the Symposium was to provide a forum for participants to share their ideas and expertise in community based education in medicine.
Keynote speakers include Professor Paul Worley, Dean School of Medicine, Flinders University and Professor Liz Farmer, Dean Graduate School of Medicine, University of Wollongong . There were some 50 representatives from across Australia and from a number of different organisations, including representatives from Monash University and other leading Australian universities delivering presentations. Several Gippsland Medical School students participated in the meeting and presented work that they had undertaken relevant to community based education.
A full account of the Symposium and copies of the presentations can be viewed and/or downloaded. Download the 2009 Symposium presentation (pdf, 3.2MB)
May Information Day
We are now getting ready for the May Information Day 23rd May 2009 for the prospective students of the 2010 intake. We expect increased interest in our course over and above previous years and look forward to the challenges that will be presented to us in the selection of the third cohort of MBBS students for the Gippsland Medical School.
New Staff Members
A/Professor Norm Eizenberg joined the Gippsland Medical in January as coordinator for anatomy teaching in the MBBS course; Dr. Sam Lees also joined the School in January as a Senior Lecturer. Sam will be acting as a tutor in both clinical skills and PBLs and taking on a role as the main liaison person for GMS and general practitioners in the region. Dr. Kathy Brotchie, an experienced and well regarded general practitioner, joined the School in April as a Senior Lecturer. Kathy will be joining the Year A Theme IV team as a tutor in both clinical skills and problem based learning.