Gippsland Medical School's first cohort graduation, December 2011
Gippsland campus looks to expanded future
Read more...

Monash University and the University of Ballarat are exploring a proposition to create an expanded, regionally-focussed university. Monash's Gippsland campus would join with University of Ballarat under a new name from 1 January 2014. See the Gippsland Future website for full details. Monash University will continue to offer its graduate entry MBBS program in Gippsland.
History of Gippsland Medicine
Order online ...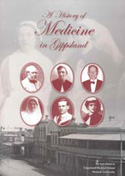 A History of Medicine in Gippsland by Dr Anne Dettrick of the Gippsland Medical School looks at medicine in Gippsland since the 19th century and the courageous people who worked in tiny remote communities across the region.