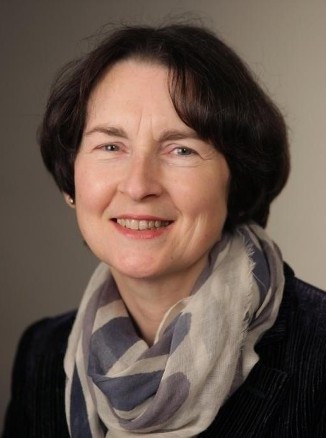 Professor Robyn O'Hehir
Current Positions:
Director, Department of Allergy, Immunology and Respiratory Medicine, Alfred Hospital
Professor and Head of Department of Allergy, Clinical Immunology and Respiratory Medicine, Central Clinical School, Monash University
Deputy Head of School (Clinical), Central Clinical School

Deputy Director Research, Alfred Health

Telephone: +61 3 9076 2251
Facsimile: +61 3 9076 8692
Email: (Monash) robyn.ohehir@monash.edu; (Alfred) r.ohehir@alfred.org.au
Office:
Department of Allergy, Immunology and Respiratory Medicine
5th Floor, Alfred Hospital
Commercial Road
Melbourne 3004
Laboratory:
Allergy
Department of Immunology
Level 6, Burnet Tower, AMREP
89 Commercial Road
Melbourne 3004
Biosketch
Professor Robyn O'Hehir is internationally acclaimed as a key researcher in allergy and respiratory immunology. Over 25 years, she invented and established the feasibility of cloning allergen-specific T cells to define T-cell epitopes. She has an active patent portfolio in translational research. This research has translated into practical immunotherapy for house dust mite and grass pollen aeroallergens, and soon for peanut allergy, all progressing in trials or to the clinic. As a respiratory physician, she has pioneered use of the natural anti-inflammatory follistatin in cystic fibrosis. She was the first adult physician to hold a full Professorship in allergy in Australia, is a Life Governor of Asthma Victoria, and has more than 230 publications with over 10,000 career citations. In 2015 she was honoured by election as a Fellow of the Australian Academy of Health and Medical Sciences and a Fellow of the Thoracic Society of Australia and New Zealand.
The contribution of Professor O'Hehir to the allergy and respiratory field ranges from T cell epitope mapping of allergens, through translational research on novel immunogens designed to invoke protective immunity, to clinical research on the pathophysiology and management of asthma. The importance of her research is reflected by her success in competitive grant funding including continuous NHMRC funding (21 NH&MRC or ARC grants over her career at Monash/Alfred since 1997) Medical Research Commercialisation Fund, Cooperative Research Centre for Asthma and Allergy, Ilhan Food Allergy Foundation, CASS Foundation and Alfred Research Trusts. In 2007 she was honoured by the NHMRC as one of ten "Great Minds in Australian Research". Professor O'Hehir also contributes to the community through membership of World Allergy Organisation committees, the European Academy of Allergy and Clinical Immunology committee on International Consensus of Allergen Immunotherapy and the Governing Board of Cabrini Health. Professor O'Hehir currently serves as Editor of the international journal Clinical and Experimental Allergy. She is regularly invited to give plenary and symposium keynote talks at national and international meetings. Professor O'Hehir is Director of the Department of Allergy, Immunology and Respiratory Medicine at The Alfred Hospital studying and treating the full range of allergic and respiratory conditions. She is noted for offering the highest quality of leadership to a broadly based Department, with strong areas of basic research, clinical research, public health commitment and specialist clinical practice. She is actively engaged in national and international clinical trials, to ensure that her combined research and clinical duties focus on translation of research findings into improved Hospital and community clinical practice.
Current Research Focus
Professor O'Hehir's research targets allergy and inflammation, addressing fundamental issues (such as the molecular characterisation of allergens, and regulators of the inflammatory response to allergens) in the context of translation to the clinic, emphasising prevention of harmful clinical outcomes such as anaphylaxis and inflammation-mediated fibrosis. She has a particular clinical and research interest in grass pollen, peanut and seafood allergy with a view to developing safe and effective diagnostics and immunotherapy for these allergic diseases. Additionally she has an active translational research program seeking to progress research and clinical trials into the role of follistatin as a therapeutic for inflammatory lung disorders including cystic fibrosis and idiopathic pulmonary fibrosis.
Selected Research Projects
Towards Phase I/IIa clinical trials of a novel T cell epitope-based peptide therapy for peanut allergy
Identification and characterisation of the major allergens in Australian crustacean species
Role of activin in driving inflammation and remodelling in inflammatory lung disorders.
Investigation of sensitization to food allergens by skin products

Evaluation of immunomodulation and efficacy of oral tablets for grass pollen allergy treatment
Identification of T cell epitopes of peanut allergens and investigation of cross-reactivity with tree nuts
Publications
Selected Recent Publications
Books
Borg BM, Thompson BR, O'Hehir RE. (2014) Interpreting Lung Function Test: A Step-by-Step Guide. 1st Edition. Wiley Blackwell (on line 12 July 2014) ISBN 9781118405512
Adkinson F, Bochner B, Burks W, Busse W, Holgate S, Lemanske R, O'Hehir RE (Eds)(2014) Middleton's Allergy: Principles and Practice 8th edition. Elsevier.ISBN 9780323085939
Peer reviewed journal publications
Prickett SR, Rolland JM, O'Hehir RE. (2015) Immunoregulatory T cell epitope peptides: the new frontier in allergy therapy. Clin Exp Allergy 45(6):1015-26
Hardy CL, King SJ, Mifsud NA, Hedger MP, Phillips DJ, Mackay F, de Kretser DM, Wilson JW, Rolland JM, O'Hehir RE. (2015) The activin A antagonist follistatin inhibits cystic fibrosis lung inflammation and pathology. Immunol and Cell Biol (Immunol Cell Biol. 2015 Mar 10. doi: 10.1038/icb.2015.7. [Epub ahead of print] PMID:25753271 (Open Access)

Koeberl M, Kamath S, Saptarshi S, Smout M, Rolland JM, O'Hehir RE, Lopata A. (2014) Auto-induction for high yield expression of recombinant novel isoallergen tropomyosin from King prawn (Melicertus latisulcatus) for improved diagnostics and immunotherapeutics. J Immunol Methods 2014;415:6–16. PMID:25450004

Voskamp A, Zubrinich CM, Abramovitch JB, Rolland JM, O'Hehir RE. (2014) Goat's cheese anaphylaxis following cutaneous sensitization by moisturiser containing goat's milk. J Allergy Clin Immunol: In Practice. (on line June 13, 2014). 2014 Sep-Oct;2(5):629-30. PMID: 25213063

Sharp MF, Kamath S, Koeberl M, Jerry DR, O'Hehir RE, Campbell DE, Lopata AL. (2014) Differential IgE binding to isoallergens from Asian Seabass (Lates calcarifer) in children and adults. Mol Immunol 62(1) pp77-85. PMID:24973736

Kamath S, Rahman AM, Voskamp A, Komoda T, Rolland JM, O'Hehir RE, Lopata A. (2014) Effect of heat processing on antibody reactivity to allergen variants and fragments of black tiger prawn: A comprehensive allergenomic approach. Molecular Nutrition and Food Research May;58(5):1144-55.Jan 13 PMID:24420734

Voskamp A, Prickett S, Mackay F, Rolland JM, O'Hehir RE. (2013) MHC class II expression in human basophils: induction and functional significance. PLoS-One Dec 9;8(12):e81777 PMID:24349126 Open Access

Hardy CL, Nguyen HA, Mohamud R, Yao J, Oh DY, Plebanski M, Loveland KL, Harrison CA, Rolland JM, O'Hehir RE. (2013) The activin A antagonist follistatin inhibits asthmatic airway remodeling. Thorax 68(1):9-18. PMID:23051972

Abramovitch J, Kamath S, Varese N, Zubrinich C, Lopata A, O'Hehir RE, Rolland JM (2013). IgE reactivity of blue swimmer crab (Portunus pelagicus) tropomyosin, Por p 1, and other allergens; cross-reactivity with black tiger prawn and effects of heating. PLoS-One 8 (6), art. no. e67487.PMID:23840718 Open Access

Prickett S, Voskamp A, Phan T, Dacumos-Hill A, Mannering S, Rolland JM, O'Hehir RE. (2013) Ara h 1 CD4+ T-cell epitope-based peptides: candidates for a peanut allergy therapeutic. Clin Exp Allergy 2013 Jun;43(6):684-97 (E-pub 29 May 2013) PMID:23711131 Open Access

Mittag D, Varese N, Scholzen A, Mansell A, Barker G, Rice G, Rolland JM, O'Hehir RE. (2013) TLR ligands of ryegrass pollen microbial contaminants enhance both Th1 and Th2 inflammatory responses and decrease induction of regulatory T cells. EJI Mar;43(3):723-33.PMID:23238878

Hardy CL, Hong-An Nguyen, Rohimah Mohamud, John Yao, Ding Yuan Oh, Magdalena Plebanski, Kate L Loveland, Craig A. Harrison, Jennifer M. Rolland, O'Hehir RE.(2012) The activin A antagonist follistatin inhibits asthmatic airway remodeling. Thorax. 2013 Jan;68(1):9-18. Epub 2012 October 10. PMID: 23051972

Etto T, de Boer C, Prickett SR, Gardner LM, Voskamp A, Davies JM, O'Hehir RE, Rolland JM. (2012) Unique and cross reactive T cell epitopes for peptide immunotherapy of a major Bahia grass pollen allergen, Pas n 1. Int Arch Allergy Immunol 159:355-366. PMID:22832594

Prickett SR, Voskamp AL, Dacumos A, Symons K, Rolland JM, O'Hehir RE. (2011) Ara h 2 peptides comprising dominant CD4+ T-cell epitopes: candidates for a peanut allergy therapeutic. J Allergy Clin Immunol. 127(3):608-615.e5.[Epub 18 Nov 2010] PMID:21093025