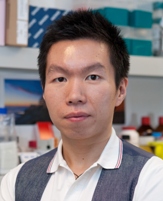 Laboratory Head
Department of Immunology
Monash University, Clayton node
Clayton Victoria 3800
Australia
Phone: +61 3 9905 0646
Email: di.yu@monash.edu
Staff
Research Fellows
Dr Yanfang Cui
Dr Sarah Jones (conjoint)
PhD students
Mr Yew Ann Leong
Mr Xin Hu
Ms Yanping (Crystal) Chen
Mr Zhian (Anthony) Chen
Biography
Dr Di Yu is a recipient of a prestigious Monash Fellowship and commenced his research laboratory at Monash in 2010. The Monash Fellowship program provides the best possible research environment to internationally competitive researchers to undertake research of national and international significance. In Monash University, Dr Yu's research team investigates the molecular mechanisms of immune responses with the focus to design new strategies to modulate the immune system to treat autoimmune diseases and cancer.
Dr Yu first came to Australia for the PhD study of Biomedical Sciences with Professors Carola Vinuesa and Chris Goodnow in the Australian National University (Canberra) in 2003 after completing his BSc in Biological Sciences at Wuhan University, China. He was awarded his PhD in 2007 for the research on the regulation of T-cell help to B cells in germinal centres and the role of microRNAs in autoimmunity. From 2007 to 2010, he carried out the postdoctoral research with Professor Charles Mackay at the Garvan Institute of Medical Research (Sydney), where he continued research on the differentiation and function of follicular helper T cells and also initiated new studies on how to boost the immune system to fight cancer, supported by NHMRC training fellowship and Cancer Institute NSW early career development fellowships. Dr Yu is a recipient of the Excellence Award from Australian National Health and Medical Research Council (2010), the Frank Fenner Medal from the Australian National University (2008), the International Research Award from the Australian Society for Medical Research (2007) and the New Investigator Award from the Australasian Society for Immunology (2006).
Research Interests
Antibody responses, vaccines and autoimmune diseases

Antibodies are used by the immune system to identify and neutralize pathogens. Generation of pathogen-specific neutralizing antibodies is the basis of most successful vaccines. On the contrary, self-reactive antibodies (autoantibodies) bind self-antigens and can interfere with normal cellular functions as well as operate immune effector mechanisms to generate autoimmune pathology. We and others recently characterized a new subset of helper T cells, named follicular helper T (Tfh) cells. Tfh cells orchestrate antibody affinity maturation and memory formation to regulate antibody responses. Therefore, Tfh cells are crucial for antibody-based vaccination and also play an important role in antibody-mediated autoimmune diseases. We use various genetic modified mice to understand the molecular mechanism for the differentiation and function of Tfh cells. This will help us to design new strategies to promote antibody responses to enhance vaccination or suppress autoantibody responses to treat autoimmune diseases.
Cytokine and cancer immunotherapy

The rejection of tumour cells requires an orchestrated set of immune events mediated by leukocytes such as T lymphocytes, dendritic cells and nature killer cells. Interleukin IL-21 (IL-21) is emerging as a key cytokine for anti-tumour immunity, by regulating multiple cellular components, in particular, two major effector populations responsible for rejection of tumour cells: NK and CD8+ T cells. Numerous preclinical models have demonstrated the very promising anti-tumour effects of IL-21. IL-21-based cancer immunotherapy is being evaluated in human clinical trials. We have adopted a novel strategy to genetically modify mice by replacing endogenous IL-21 and IL-21 receptor with human IL-21 and its receptor. We will use this tool to develop new approaches to boost anti-tumor immunity by enhancing the IL-21 pathway, which can rapidly be translated into human therapies.
Transcription factors and microRNAs

Transcription factors (TFs) are specialized proteins that bind certain DNA sequences adjacent to genes to promote or suppress the transcription of the gene. MicroRNAs (miRNAs) are short non-coding RNA molecules than bind complementary RNA sequences within target mRNAs to tune mRNA expression by inducing cleavage and/or translational inhibition. TFs and miRNAs together establish a complex transcriptional and post-transcriptional regulatory network within leukocytes largely controlling immune responses. Using cutting-edge technology, such as next generation sequencing, we aim to reveal the features of TF-miRNA regulatory networks during normal and dysregulated immune responses.
Projects
Honours and PhD projects are available on the research direction of the laboratory and will be tailored according to students' interests, length of study and research experience. Interested students should contact Dr. Di Yu (di.yu@monash.edu) for further details.
Selected Publications
For a full list of publications see Dr Di Yu's bibliography
He J, Tsai LM, Leong YA, Hu X, Ma CS, Chevalier N, Sun X, Vandenberg K, Rockman S, Ding Y, Zhu L, Wei W, Wang C, Karnowski A, Belz GT, Ghali JR, Cook MC, Riminton DS, Veillette A, Schwartzberg PL, Mackay F, Brink R, Tangye SG, Vinuesa CG, Mackay CR, Li Z, Yu D. (2013) Circulating CCR7loPD-1hi CXCR5+ CD4+ T cells indicate follicular helper T cell activity and promote antibody responses upon antigen re-exposure. Immunity 39(4),770-781
Yu D, Vinuesa CG (2010) The elusive identity of T follicular helper cells. Trend Immunol 31(10):377-83
Linterman MA, Beaton L, Yu D, Ramiscal RR, Srivastava M, Hogan JJ, Verma NK, Smyth MJ, Rigby RJ, Vinuesa CG (2010). IL-21 acts directly on B cells to regulate Bcl-6 expression and germinal center responses. J Exp Med 270 (2), 353-63.
Yu D, Batten M, Mackay CR, King C (2009) Lineage specification and heterogeneity of T follicular helper cells. Curr Opin Immunol 21(6), 619-25
Maslowski KM, Vieira AT, Ng A, Kranich J, Sierro F, Yu D, Schilter HC, Rolph MS, Mackay F, Artis D, Xavier RJ, Teixeira MM, Mackay CR (2009). Regulation of inflammatory responses by gut microbiota and chemoattractant receptor GPR43. Nature 461, 1282-1286.
Yu D, Rao S, Tsai LM, Lee SK, He Y, Sutcliffe EL, Srivastava M, Linterman M, Zheng L, Simpson N, Ellyard JI, Parish IA, Ma C, Li QJ, Parish CR, Mackay CR, Vinuesa CG (2009) Transcriptional repressor Bcl-6 directs Tfh lineage commitment. Immunity 31(3), 457-68
Linterman MA, Rigby RJ, Wong RK, Yu D, Brink R, Cannons JL, Schwartzberg PL, Cook MC, Walters GD, Vinuesa CG (2009) T follicular helper T cells are required for systemic autoimmunity. J Exp Med 260 (3), 561-76.
Vogelzang A, McGuire HM, Yu D, Sprent J, Mackay CR, King C. (2008) A fundamental role for Interleukin-21 in the generation of T follicular helper cells. Immunity 29, 127-37.
Yu D, Tan AH, Hu X, Athanasopoulos V, Simpson N, Silva DG, Giles KM, Leedman PJ, Huttloff A, Lam KP, Goodnow C, Vinuesa CG. (2007) Roquin represses autoimmunity by limiting inducible T-cell co-stimulator messenger RNA. Nature 450, 299-303.
Vinuesa CG, Cook MC, Angelucci C, Athanasopoulos V, Rui L, Hill KM, Yu D, Domaschenz H, Whittle B, Lambe T, Roberts IS, Copley RR, Bell JI, Cornall RJ, Goodnow CC. (2005) A RING-type ubiquitin ligase family member required to repress follicular helper T cells and autoimmunity. Nature 435, 452-8.