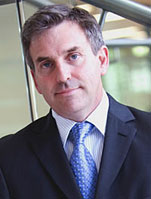 Laboratory Head
Professor Charles R. Mackay FAA
Phone: (03) 9902 9510
Email: Charles.mackay@monash.edu

Center for Immunology and Inflammation
Department of Immunology, Clayton node
Monash University Clayton
Melbourne Victoria 3088
AUSTRALIA
Staff List
Research Fellows
Dr Nina Chevalier
Dr Laurence Macia
Dr Eliana Marino
Dr Remy Robert
Dr Lauren Binge
Dr Alison Thorburn
Senior Research Assistant
Mr Laurent Juglair
Research Assistant
Ms Suzanne Luong
Hons Students
Samantha Adikari
Caroline Kim Lian Ang
Megan Splittgerber
2012 Hons Students *
Lucinda Di Giulio
Craig McKenzie
Jian Tan
Robert Williams
PhD Students
Kate Rogers
Scott Reddix
Biography
Professor Charles Mackay received his PhD in 1986 from the Department of Veterinary Pre-clinical Sciences, University of Melbourne. Charles Mackay was recruited to Basel Institute for Immunology in 1987 where he continued his work on lymphocyte traffic, using the sheep as a model. After 7 years at Basel, Charles Mackay spent 7 years in the biotech industry, first at LeukoSite Inc., and then Millennium Pharmaceuticals. Charles Mackay spent 10 years at the Garvan Institute in Sydney where he headed up the Immunology department. He now is a professor at Monash University, located at the Clayton campus, in Victoria. Professor Mackay's expertise is in cell migration and chemoattractant receptors for immune cell function, as well as tissue processes including inflammation, development, and fibrosis. In particular, the expertise of Charles Mackay's laboratory is in studying inflammatory models, making mAbs to difficult targets, and the generation and study of novel knock-in/ knock-out mice.
Charles Mackay is a fellow of the Australian Academy of Science, is an ISI highly cited author, and has published over 135 papers.
Research Interests
The overarching aims of our laboratory are to enable expanded academic research into scientifically and clinically important aspects of immunology and inflammation, and gain new knowledge on the basis of immune responses in health and disease.
The Charles Mackay laboratory occupies a very specific and challenging research niche: the understanding of mechanisms of immune cell migration, particularly with respect to inflammation, and the translation of this into new therapeutics for inflammatory diseases and cancers.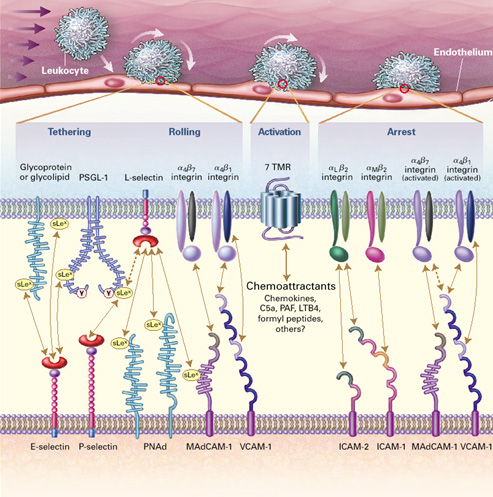 The multi-step model for leukocyte binding to endothelium and migration to tissues.
Numerous adhesion molecues (selectins, integrins) and chemoattractants (i.e. chemokines) combine to regulate the binding and extravasation of leukocytes from blood to tissues. The chemoattractants, binding to G-protein coupled receptors on leukocytes, are instrumental in the process and have a large bearing on the selective migration of leukocyte subsets to tissues.
(From von Andrian and Mackay, New England Journal of Medicine 2000).
Podcasts
Link to Podcast: Is diet behind asthma's rise in western society?
Professor Charles Mackay - 28 May 2010
Projects
Honours and Post-graduate studies
The Immunology and Inflammation Center at the Clayton Campus has a particular focus on translating new discoveries into human therapies. The laboratory of Charles Mackay has strengths in both academic research, particularly around cell migration and chemokines, as well as a track record for development of new monoclonal antibody based therapies.
Particularly exciting new areas of research aim to explore the link between diet, metabolism and inflammation. A major hypothesis promoted by our laboratory is that the asthma and autoimmune disease epidemic in western countries relates to western diet and changes in the gut microbiota. The G-protein coupled receptor GPR43 is central to our efforts on this project.
Another area of interest is T cell help to B cells (T follicular helper cells), and the role of novel molecules such GPR18, Bcl-6, IL-21 and others.
A relatively new but little studied receptor is the chemokine receptor CXCR7. We have identified a role for this receptor in fibrosis and there exist several exciting projects around the role of this receptor in different models of fibrosis, wound healing, and immune responses.
We have several applied and commercially orientated projects, developing therapeutic monoclonal antibodies to targets, with the aim to advance these to human clinical trials. This has been a rewarding aspect of the lab's efforts as we have 1 antibody in human clinical trials and 2 antibodies at late stages of preclinical development.
Students wishing to pursue post-graduate studies may have the opportunity to secure study scholarships, as well as top up scholarships.
The laboratory has a highly interactive, friendly and intellectual environment, and care is taken to maintain an exceptionally good team spirit. Interested students should approach Prof. Charles Mackay (charles.mackay@med.monash.edu.au) for further details
Recent Publications
(see http://www.researcherid.com/rid/A-9673-2008 for full list of publications)

Lee H, Zahra D, Vogelzang A, Newton R, Thatcher J, Quan A, So T, Zwirner J, Koentgen F, Padkjaer SB, Mackay F, Whitfeld PL, Mackay CR. 2006. Human C5aR knock-in mice facilitate the production and assessment of anti-inflammatory monoclonal antibodies. Nat Biotechnol 24: 1279-84
Jeffrey KL, Brummer T, Rolph MS, Liu SM, Callejas NA, Grumont RJ, Gillieron C, Mackay F, Grey S, Camps M, Rommel C, Gerondakis SD, Mackay CR. 2006. Positive regulation of immune cell function and inflammatory responses by phosphatase PAC-1. Nat Immunol 7: 274-83
Sierro, F., C. Biben, L. Martínez-Muñoz, M. Mellado, R. Ransohoff, M. Liu, B. Woehl, H. Leung, J. Groom, M. Batten, R.C. Harvey, C. Martínez-A, C.R. Mackay, and F. Mackay (2007). Disrupted cardiac development but normal hematopoiesis in mice deficient in the second CXCL12/SDF-1 receptor, CXCR7. Proc. Natl. Acad. Sci. USA 104:14759-14764.
King C, Tangye SG, Mackay CR. 2008. T follicular helper (TFH) cells in normal and dysregulated immune responses. Annu Rev Immunol 26: 741-66
Mackay CR. (2008) Moving targets: cell migration inhibitors as new anti- inflammatory therapies. Nat Immunol. 9:988-98.
Yu D, Rao S, Tsai LM, Lee SK, He Y, Sutcliffe EL, Srivastava M, Linterman M, Zheng L, Simpson N, Ellyard JI, Parish IA, Ma CS, Li QJ, Parish CR, Mackay CR, Vinuesa CG. (2009) The transcriptional repressor Bcl-6 directs T follicular helper cell lineage commitment. Immunity 31: 457-68
Maslowski KM, Vieira AT, Ng A, Kranich J, Sierro F, Yu D, Schilter HC, Rolph MS, Mackay F, Artis D, Xavier RJ, Teixeira MM, Mackay CR. (2009) Regulation of inflammatory responses by gut microbiota and chemoattractant receptor GPR43. Nature 461: 1282-1286.