Laboratory Head
Professor Fabienne Mackay
Phone: (03) 99030713
Email: fabienne.mackay@monash.edu
Department of Immunology
Monash University
Level 6, Burnet Institute
89 Commercial Road
Melbourne Victoria 3004
AUSTRALIA
Staff & Students
Post-doctoral Research Staff
Research Staff
Students

Dr William Figgett
Dr Beatriz Garcillan

Mrs Angela Vitali (Lab Manager)
Ms Ellen MacAllister (Technical Assistant)

Mr Damien Saulep-Easton
Dr Fabien Vincent
Ms Eloise Alison
Ms Florence Lim
Biography
Prof Mackay obtained her Ph D in 1994 at the Louis Pasteur University in Strasbourg under the co-supervision of Dr. Werner Lesslauer (Hoffmann La Roche, Basel Switzerland) and Prof. Diane Mathis (now at the Joslin Institute Boston USA). In 1994, Prof Mackay joined BiogenIdec Inc. in Boston where she dissected the role of a TNF-like ligand lymphotoxin-alpha/beta in autoimmunity and cancer. This work led to many patents and the development of two new treatments currently tested in the clinic.
In 2000, Prof Mackay joined the Garvan Institute in Sydney as a Wellcome Trust senior research fellow and was awarded a NHMRC program grant. Prof. Mackay's lab at Garvan discovered the role of a new molecule named BAFF as a key B cell survival factor essential for the maturation of B-lymphocytes but also playing a role in autoimmunity, and became one the leading group on BAFF research. In March 2006, Prof was appointed to director of the Autoimmunity Research Unit and adjunct full professor at the Faculty of medicine of the University of New South Wales. Prof Mackay is a consultant for several biotech and pharmaceutical groups. In 2007, she joined the national director board of the Australian Society of Medical Research (ASMR). In 2008, she was the NSW representative for the NHMRC Association for Research Fellows (NARF). Prof. Mackay is an associate editor for several scientific journals including the Journal of Interferon & Cytokine Research and the European Journal of Immunology.
In March 2009, Prof Mackay became the 5th Chair of the Department of Immunology, Monash University, AMREP campus. In July 2009, belimumab, a therapeutic antibody neutralising BAFF has met the primary endpoints in a phase III clinical trial with lupus patients and run by GSK and Human Genome Sciences. This clinical outcome validated a decade of Professor Mackay's work on BAFF and autoimmunity.
Research interests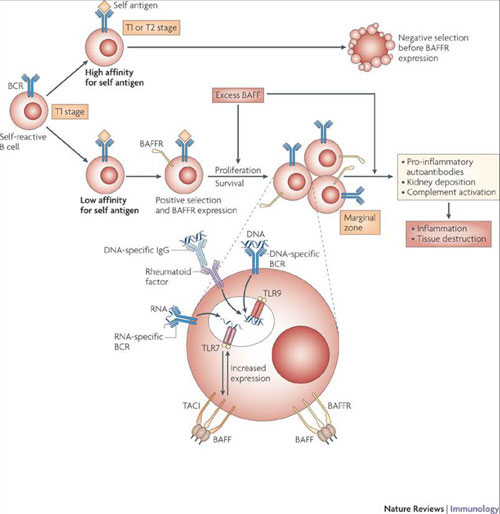 Figure Legend: Strongly self-reactive immature transitional type 1 (T1) B cells are killed after binding to self antigen before expressing sufficient B cell activating factor receptor (BAFFR) on their cell surface and therefore cannot be rescued from deletion by BAFF. By contrast, self-reactive B cells with low affinity for self antigen are positively selected, acquire expression of BAFFR on their cell surface, proliferate in response to increased levels of BAFF and mostly accumulate in the marginal zone compartment of the spleen. Low-affinity self-reactive B cells expressing a DNA-specific or RNA-specific B cell receptor (BCR), in particular marginal zone B cells, are highly responsive to Toll-like receptor (TLR)-mediated activation. B cells expressing rheumatoid factor can also bind DNA indirectly. After internalization of the antibody-DNA complex, DNA can activate TLR9. DNA-specific and RNA-specific self-reactive B cells could therefore be activated directly through TLR9 and TLR7, respectively. Transmembrane activator and calcium modulator and cyclophilin ligand interactor (TACI; also known as TNFRSF13B) activation upregulates TLR expression, and TLR activation increases TACI expression. After TLR activation, and in the presence of high levels of BAFF, self-reactive B cells produce pro-inflammatory autoantibodies (in particular, IgG2b and IgG2c), which deposit in the kidney and promote complement activation and tissue destruction. Mackay F. and Schneider P. 2009 Nature Reviews in Immunology. 9: 491-502
Prof. Mackay's laboratory has an interest in autoimmune diseases and mechanisms leading to loss of immune tolerance, in particular that of B-lymphocytes. Prof Mackay has spent years studying a cytokine from the TNF superfamily named BAFF/BLyS and demonstrated the role of this factor in B cell survival. Excess BAFF leads to autoimmunity in mice and is associated with human autoimmunity, in particular systemic lupus erythematosus (SLE) and Sjögren's syndrome. Inhibitors of BAFF have recently met the primary endpoints in a phase III clinical trial with SLE patients, validating in human patients the critical role of the BAFF system in SLE.
BAFF drives autoimmunity independently of T cells but this process requires the function of Toll-like receptors (TLR) and as such drives an unusual form of autoimmunity. BAFF signals through three receptors BAFF-R, TACI and BCMA. BAFF-R triggers survival but is also express on activated T cells and regulatory T cells on which the role of BAFF-R is still obscure. TACI is expressed on a subset of B cells, monocytes and dendritic cells, and its expression is regulated by TLR activation. TACI is required for T-independent antibody responses but also negatively regulate B cells. Its role as a negative regulator of B cells remains unclear. TACI appears to be activated by oligomeric forms of BAFF and APRIL crosslinked by Heparan Sulfate Proteoglycans (HSPG) but not by trimeric ligands. BCMA is expressed on plasma cells and is required for cell survival. The function of APRIL another ligand for TACI and BCMA versus BAFF is also not fully understood. APRIL is highly expressed by cancer cells and it may drive TACI-dependent immune mechanisms in tumors. All these issues are currently addressed in Prof. Mackay's laboratory.
Prof. Mackay's lab also works on the chemokine receptor CXCR7, which is important for heart formation and tissue remodelling. CXCR7 deficiency delays some autoimmune conditions in mouse models and its role in T cells will be addressed.
Finally, Prof Mackay has worked on the role of neuropeptide Y (released in response to psychological stress) and its receptors in suppressing immune functions and protection against cancers.
Recent Publications
For a full list of publications please see her ROPES Profile